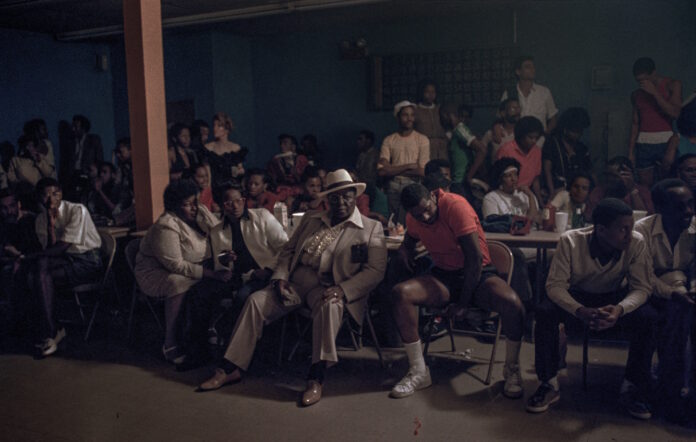 It's 1982, on New York's West 125th Street, where a special night – the Harlem Fantasy Ball II – is hosted by Pepper LaBeija ("Mother" of the House of LaBeija) and Dorian Corey (Founder and "Mother" of the House of Corey). Photographer Nick Kuskin, then 21, was invited to document this historic evening dedicated to personal expression and avant-garde community creation. The negatives were only recently found and restored, and the photographs will be exhibited for the very first time.
The exhibition and the program that surrounds it celebrates the contribution of Pepper LaBeija and Dorian Corey, and the Royal House of LaBeija, which helped to lay the foundations for a worldwide movement of expression and advocacy for queer, black and brown communities.
The exhibition brings together thirty-eight unpublished photographs of one of the most important evenings in the history of ball culture, organized in New York in 1982.
The Ballrooms were born in the Afro-American and Latino LGBTQ+ communities who launched their own beauty contests, in the face of the racism of the official contests. The ballrooms were grouped together in "houses", sorts of alternative communities acting as emancipatory "safe spaces" where the participants could express themselves freely.
Introducing the exhibition Kopano Maroga, an artist, performer, writer, playwright for VIERNULVIER and guest curator of this exhibition said: "We cannot look at this moment and only appreciate the joy and the levity and the celebration, we need to appreciate that this historically was intersecting with the moment at the start of the HIV AIDS pandemic."
This unique photo series immerses audiences in the heart of ballroom culture and the origins of the legendary Royal House of LaBeija.
The exhibition opens the Afropolitan festival (which takes place from May 19 to 21). This annual festival brings together contemporary artists from the Belgian and international African diaspora for a long festive weekend featuring cinema, an exhibition, music, debates, workshops and a lifestyle market.