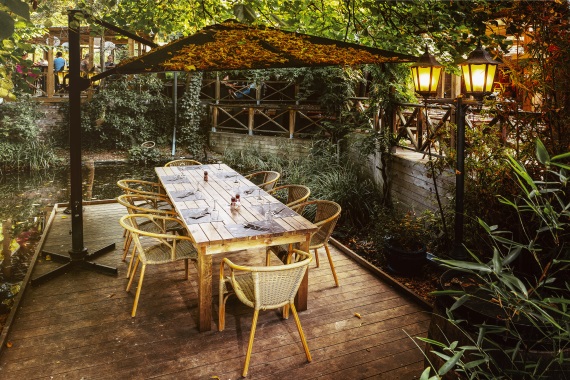 The latest in our Belgian dining series looks at L'Amusoir and The Sea Grill.
L'Amusoir
This restaurant put its roots down in the heart of Waterloo over 40 years ago. We settled  in, admiring the remodeling and finding the staff as convivial as ever. The big plus here is excellent value for money from a brasserie menu packed with meals prepared in-house. We ordered a very tasty beef steak, which comes with steamed vegetables and fries or potatoes. The menu has been designed to suit everyone. The wine list is also well thought-out, with some great choices, including a wine of the month.
In good weather chill out on the terrace at the back of the restaurant (120 seats). An undeniable asset is the BAR de l'Amusoir directly beside the restaurant, where we continued the evening in a cozy atmosphere of natural wood – without leaving the property. An unmissable spot in the centre of Brabant Wallon.
www.lamusoir.be
The Sea Grill
There are, simply, certain restaurants that just ooze class from the first moment you're inside. Restaurants that convince you, from the get-go, that this is a true team effort, with everyone channelling their efforts into nothing less than a first-class experience for all those lucky enough to dine there.
The Sea Grill, on rue Fosse aux Loups in Brussels, is one such restaurant. It has been in the stewardship of Chef Yves Mattagne for the past 27 years, has two Michelin stars, and is without a doubt the best seafood restaurant in the capital of Europe.
It is by and large pointless to try and explain this superb combination of flavours, that immaculately chosen wine or the inimitable range of superbly crafted dishes on offer, as this reviewer and his partner were lucky enough to try recently.
I was also lucky enough to speak with Yves during the evening, and his philosophy, and that of his hand-picked team, some of whom have worked alongside him for 15 and 20 years, is clear – "We are here to ensure that you receive something truly special from your time with us. If this doesn't happen, we are not doing our job properly."
www.seagrill.be