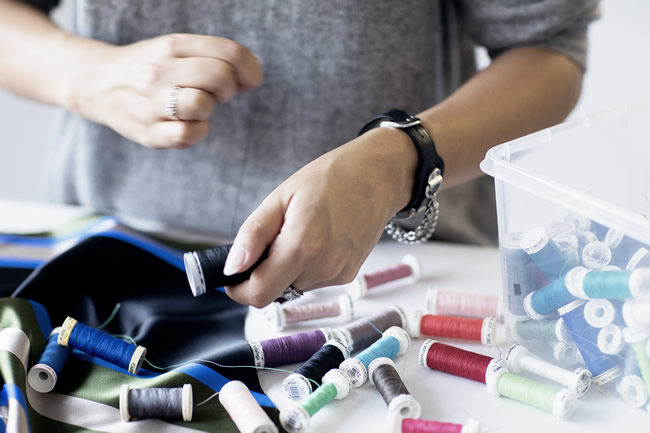 "It's really important that my collection is convenient and hassle-free so I avoid as much as possible everything that is 'dry clean only' because it's not practical and sometimes unnecessary."
So began her collaboration with AEG. To prove the reliability of their machines, AEG bought two pieces in Van Overeem's collection, test-washed them in their lab, and returned them with the appropriate washing instructions. Van Overeem was pleasantly surprised by the results.
"I learned a lot. I sent them some of my more delicate fabrics that I didn't think could be washed in the machine. One piece had a fringe and the other had a pattern painted with metal paint."
Likewise, Van Overeem spends a lot of time testing fabrics, following the example of Dries Van Noten, who wears new pieces for weeks and sometimes months to make sure they are durable, she said.
Experimenting with fabrics to see if they can be washed or not, she discovered there is a myth in the fashion industry when it comes to the dry clean only label assigned to clothes.
"My suppliers will tell me that a certain fabric is dry-clean only and actually, from direct experience, I know that it's not. I did an exchange with a blogger who sent me back an item, but she hadn't washed it and there was a sweat stain. I didn't have the time to go to the dry cleaners so I put it in the machine. It worked just as well and it was a really delicate material: Jacquard canvas."
Unbeknownst to consumers, many designers and suppliers will put 'dry clean only' on a hangtag by default to avoid liability, Van Overeem said.
"The suppliers are going to put 'dry clean only' on the label because they don't want to take responsibility if the garment is ruined. It's much easier than testing it out in the machine. Sometimes they put something on the label and they have no idea."
Van Overeem no longer blindly follows the advice of her suppliers. She decided it should be up to the designer to determine whether or not something can be washed.
"I take the risk. Sometimes I put 'machine wash' on labels because I know my end client is going to find that easier and I don't want her to be afraid of washing it."
Where the Van Overeem label and AEG technology is concerned, everything comes out in the wash.