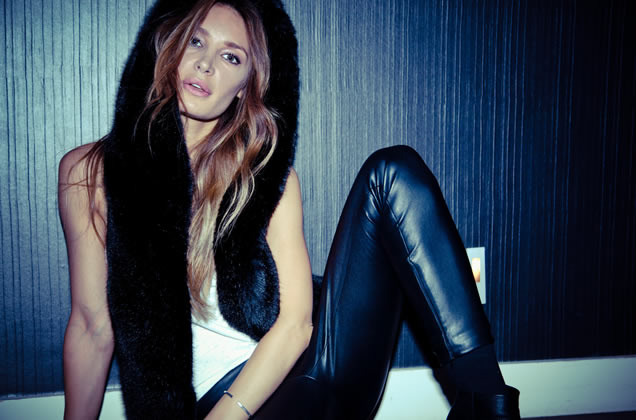 Jeanie Keogh caught up with Emilie Pinet, a very successful Belgian fashion entrepreneur.
Cheeky, edgy Made in Belgium accessories label Une Brune Une Blonde has been creating quite a tinkle in the Benelux area since its launch three years ago by young Charleroi designer Emilie Pinet.
Une Brune Une Blonde is part rocker, part glamour, classic meets funky, Chanel meets punk. The label is a contradiction in feminine terms, a one-style-fits-all approach that adds refreshing verve to staid fashion rules. Throw mystery together with whimsy, mix sultry in with demure and out comes a stereotype-defying fashion mash up that dares women "2B" both brunette and blond, girl and woman alike.
Pinet – a brunette, but that's incidental – first fiddled with beads and baubles at a jewellery design school in Liege and then in Namur. It didn't take long for the bubbly (yet refined) 35-year-old Walloon native to branch out into scarves, stoles, capes, wraps and clutches which ended up becoming an even bigger part of her business.
"A woman never goes anywhere without a scarf," she says, conspiratorially.
And Pinet never goes anywhere without Une Brune Une Blonde creating a buzz. Her wholesale supply events draw buyers from across Belgium and Luxembourg, the brand's Facebook page has over 4,500-plus likes, stars at Cannes have been seen adorned with her pieces and all the major fashion magazines have given Une Brune Une Blonde the respectful once-over.
The key to her growing success is in devoting her time to researching trends, not just in Belgian fashion but much further afield.
"I'm always on social networks, at expositions. With the Internet, we can really travel a lot to see what's happening in Rome, Spain, in the capital fashion cities. My strength is really in that I am avant-garde, on the look-out for what is cool, easy to wear; things that we don't see everywhere, for example, what I'm doing with top of the line faux fur."
Is Belgian fashion ready for faux fur?
Although faux fur might be a faux pas in luxury fashion circles, Pinet believes this will become an outdated attitude once people cotton on to the impressive innovations of the textile industry.
"I find it sad to work with real fur when you can see the incredible quality of faux fur coming out on the market," she said.
Her faux fur scarves are fun, and predictably, multi-faceted: picture leopard with a flash of neon on the flip side; or sexy combinations of jersey on top, satin underneath. Same goes for the jewellery: long, chunky necklaces and bracelets that are a jumble of dog tags, iconic Chanel chain-links and tassels.
What Pinet is trying on now is creating an online Une Brune Une Blonde fashion movement.
"I think that people are starting to know the Une Brune Une Blonde product based on my personality: what I like, who I am, what's on my social network sites. I'm really working on creating something that isn't seen anywhere else. I don't copy people. I do my own thing. I let people copy me. As soon as people copy me, I do something else.
A Jill-of-all-trades, Pinet designs and produces the entire collection as well as managing the Charleroi workshop, sales and the online store.
"I do everything myself. I play the role of the brunette and the blond at the same time," she says, laughing. "As soon as I have an idea or a product, I put it to the side. I draw it, ask the workshop to make it for me, and when I feel it is time to present it, it goes on the market."
When she's not designing and managing the business, Pinet holds events for retailers at her showroom – opened only a year ago – or takes her (pirate's) booty around the country to present her wares at industry expositions. Une Brune Une Blonde is exclusively business-to-business.
"I present the whole collection to professionals, people who come to see it and make orders for their own stores."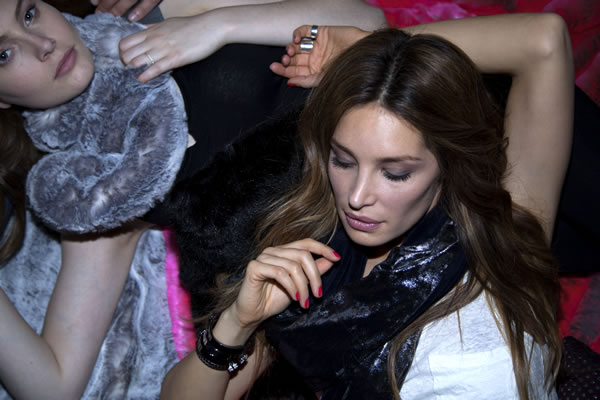 But as Pinet's signature style begins to turn more heads, individual consumers are now tracking the latest Une Brune Une Blonde collection through the website and then going on a treasure hunt to a boutique that carries the label.
"I'm starting to open the business to individuals so that they can see Une Brune, Une Blonde, check out everything I do, know what's available and then go and buy it at the shops where it is being sold."
As for Pinet's politics, it is important that Une Brune Une Blonde remain authentically Belgian.
"I think it's important to push Belgian fashion, to put our country front and centre and promote what we can do here. Belgian designers have a lot of potential and the fact that we can create a Made in Belgium market when you hear about all the people who go to China to bring things back to sell here, or go to Paris to source their material, I find it sad."
That would be the fiery redhead in her talking.