In our latest Belgian gastronomy article Caroline Dierckx enjoys marine delights at a unique fish restaurant in the heart of Waterloo.
This one-of-a-kind restaurant is located in Waterloo, an emblematic municipality of the Walloon Brabant region.
Leading 'Momo' since 2016, Thierry Vanholsbeek has worked for the Atomium restaurant and NATO kitchens among others. At the 2000 Maryse and Jean Lenoir competition, Vanholsbeek took the Culinary Grand Prix, also coming third in the competition to be Belgium's head waiter.
In addition, he joined the renowned family of Euro-Toques chefs in June 2016 – an association of European craftsmen. In March 2017, Vanholsbeek also received the title of Maitre-Rôtisseur [literally translated as 'master roaster'] by the prestigious international 'Chaîne des Rôtisseurs' association.
The venue is a real invitation to discover seafood in a setting that reminds us of fishing, the tides, the boats… It is very easy to imagine the sea in the background. As for the cooking, it is a journey from near or far with ultra-fresh products delivered twice a day. The chef manages to perfection the exact cooking of the fish and shellfish offered on the menu. The result is a perfect balance of flavours.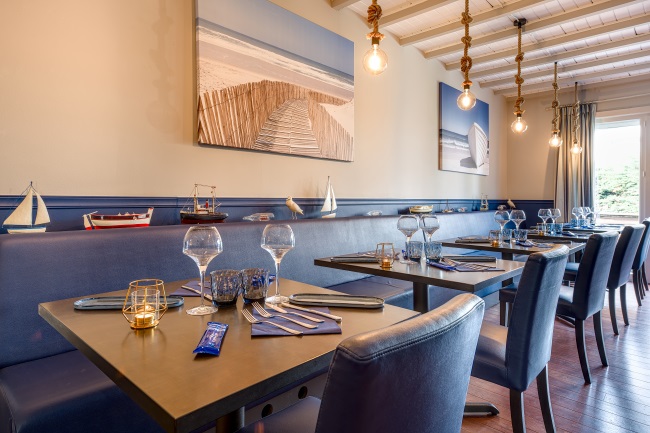 We chose a culinary 'world tour' with a Royal Shrimp discovery platter. Small shrimps and prawns from all the continents of the world: prawns from Argentina, the tasty 'Nobashi' prawns from Japan, delicate Obsiblue prawns from New Caledonia, Canada or Wild Nigerian prawns from Nigeria. Don't hesitate to ask the waiter for advice. He will give you all the information you need about the tasting experience.
On the 'a la carte' menu you will also find classic sole, cod and turbot dishes, as well as the "unmissable home-made grey shrimps".
For the wines, Thierry Vanholsbeek has chosen from genuine wine houses, highlighting certain regions. The wine list is seductive and will enchant both novices and connoisseurs.
Nobody is forgotten at Momo La Crevette. If you do want to eat meat, all you need to do is order it in advance.
To discover: The set lunch from Monday to Friday (starter and main course) for €22.
For sunny days, the restaurant benefits from a beautiful outdoor space.
We will definitely return to discover other tasty marine flavours.