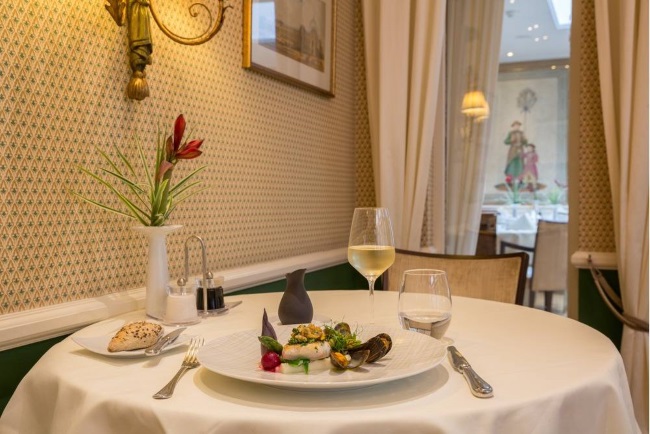 A new wine cellar for Brighton Restaurant in Brussels.
Open since 1991, the Brighton Restaurant, at the heart of the Stanhope Hotel Brussels by Thon Hotels, is the perfect establishment to enjoy a fine dining experience in an elegant setting, perfectly located close to Place du Luxembourg and the Royal Palace of Brussels. The Brighton Restaurant is open to all (including non-residents).
The interior design is inspired by the Royal Pavilion of Brighton, offering our guests a calm and discreet moment. If the weather allows, you can enjoy your dinner on our peaceful terrace under a 100-year old Magnolia tree.
The chef of Brighton Restaurant, Laurent Gauze, member of the Académie Culinaire de France, carefully creates menus inspired by local products. Combined with these seasonal products, the restaurant proposes an exquisite wine selection at affordable prices – a unique wine cellar in Brussels. Thanks to this precise and rare selection of wines, passionate or curious novices can taste a "grand cru". The decision to offer the possibility to sample exceptional wines is a real extra value for our guests. Since January 2019, the "grand cru" tasting is available as well by the glass.
A new wine system
With a new wine system "Coravin", without alteration and total opening of the bottle, the clients can currently taste a Clos Vougeaot (Jacques Prieur – Red wine) or a Corton Charlemagne (Girardin – white wine). Thanks to this "grand-cru by glass" system, guests can enjoy one or several glasses of wine at an affordable price. This opens a variety of possibilities for a food and wine pairing.
This way you can taste a glass to discover unknown or famous wines before ordering the full bottle for future events or dinners.
Exclusive dinner menu
On 7 June, Brighton Restaurant welcomed an exclusive dinner menu inspired by wines. Wine and food lovers are more than welcome. For this first gastronomic wine travel, "Bourgogne", "Pinot noir" and "Chardonnay" will be served with sturgeon, Foie Gras and other dishes, with the exceptional presence of the "Vincent Girardin Domaine". All the wines come from Maison Girardin.
All reservations can be made only at brighton@stanhope.be.
For more information: www.brightonrestaurant.be