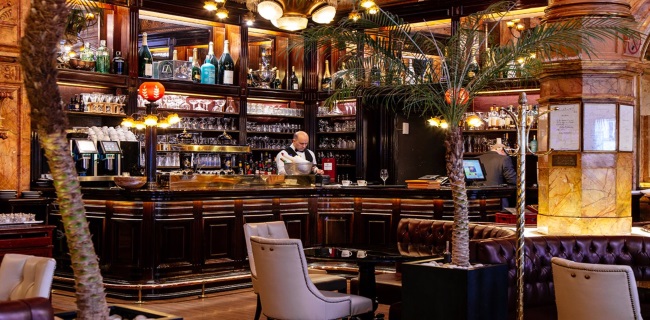 Café Metropole
One of our favourite spots for a bit of lunch or dinner is the Métropole Café. It's not just that it's nice be seen there – it is – or that the decor is exquisite, with the highest ceiling in town – also true – or that the food is proper eating with no pretensions – again correct – or that that staff are so attentive – which they are… If you walked in off the street and your wallet was light at the end of the month you might well do a swift turnaround and walk out.
In fact for such a stunning ambiance and excellent grub the prices on the menu at the Métropole are distinctly democratic. I polished off the 350gr Irish Sirloin while my dining partner enjoyed homemade pasta stuffed with mushrooms and sauce. The wines perfectly complemented all the meals and the world went by outside as it always does. We will be back.
www.metropolehotel.com


Deliveroo
On a somewhat different note we are also fans of the Les Super Filles du Tram, based close to Flagey and also of Deliveroo, who can bring the Super Filles to your very door. These days you don't have to go there to appreciate their succulent – and hefty – burgers. You can do what we did – ensconce yourself in a cafe in Place Jourdan (you don't have to stay cooped up at home) on a balmy night, order some chilled vino and wait.
Well, not just wait. Once you have ordered online from Deliveroo you can track your delivery online (it's the best bit really, all that tension) and even find out how many kilometres the Deliveroo boy/girl has averaged on their deliveries on those sturdy bicycles.
Deliveroo adds new venues all the time, with a fantastic variety across town – in fact they recently caught a big fish in the shape of Quick but that's not my kind of burger. You can't win 'em all.
www.deliveroo.be