In our latest article in our Brussels dining series we offer three more places to eat out or in.

Tiago's
This excellent Portuguese restaurant could not be better placed – it is located right in the middle of the European district, on rue Archimède. The night we visited the board boasted a choice of Portuguese specialties. We started with prawns in garlic which set us up nicely for the main course.
I had the Portuguese steak which comes with a fried egg, accompanied by homemade chip-style fries and a rich sauce, which includes white wine and mustard. My dining partner was seduced by the sound of one of Portugal's most famous traditional dishes – bacalhau à brás is made with salt cod, matchstick-thin potatoes and scrambled eggs (I tried some of it and found it light and delicious).
The place is very spacious, so if you're planning an office lunch or dinner or celebrating an anniversary, this could well be the spot. The front is taken up by a smart bar, with high tables on the terrace in fair weather.
www.tiagos.be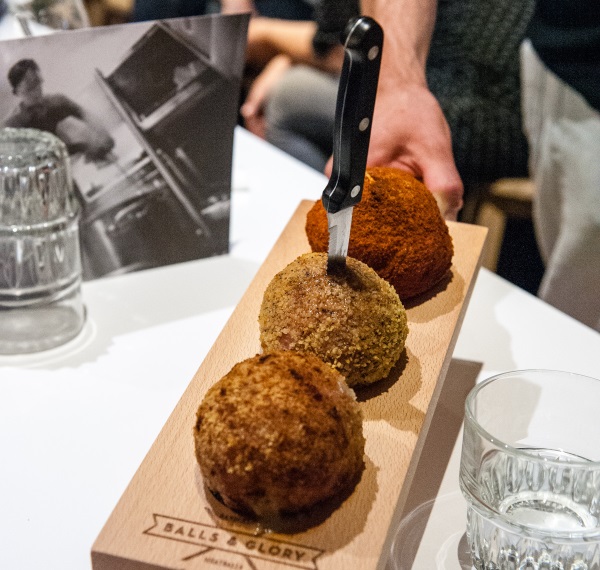 Balls & Glory
This quirkily-titled restaurant focuses uniquely on bringing a modern touch or two to the good old-fashioned meatball. We visited the newly-opened Brussels restaurant at the Bourse.
The décor is open, bright and spacious, with a nod to the industrial style that is very popular in the centre of Brussels these days. When you walk in there is a board hung above the tills, revealing the meatballs on offer. You chose your balls plus what you would like with it.
They are all made on site and you can catch a glimpse of the ingredients being magically transformed. You can choose from the four 'Balls of the day' (Pork, chicken and veggie) served with a delicious stoemp (mashed potato and vegetables) or a salad with seasonal greens. Share some free fruit (a nice touch) with the other table guests and take a sip of water with a lemon wedge on the house (nice touch #2).
You can take a seat for two or join your fellow man (and woman) at the communal tables. You can also order a Ball to go, which if you're in a hurry is a very practical choice. They can also be found in Ghent, Leuven and Antwerp.
www.ballsnglory.be


Deliveroo
You will no doubt have spotted the ubiquitous cyclists sporting square boxes on their back hurtling through the streets as if their life depended on it – of course it's all in the cause of keeping your food warm.
Gone are the days when only pizza was delivered to your door. Deliveroo allows you to choose from a wide variety of restaurants in the Brussels area, from curries to burgers and, yes, pizzas. We tried it out and chose Les Super Filles du Tram on Rue Lesbroussart, close to Place Flagey. Their burgers are not only very tasty, they are also very generous. We both plumped for the 'New York', packing 400 grams of beef, double pepper sauce, double cheddar and double bacon.
And it couldn't be simpler. Log on, type in your address (home, work or, in our case, a pleasant café) and the page will display the restaurants within reasonable reach and the rough waiting time. Sit back and look out for a mere blur of a cyclist with a blue boxed backpack and voila, dinner is served!
www.deliveroo.be