In our latest Brussels travel article we look at a 5-star luxury boutique hotel that looks after the little details.
Tucked away on a quiet street close to the European Parliament, the Stanhope Hotel is nevertheless close to the bustle of the city centre. Take a leisurely stroll through Brussels Park and you will soon be standing on the Mont des Arts looking towards the spires of the old town.
As soon as you walk through the impressive portal, the first thing that strikes you is a décor that reeks of charm, discretion and comfort, with a hint of the tranquility of an English country home. Because the Stanhope really is a hidden gem.
It takes a while to realise that the building is in fact a series of typical Brussels' mansions that have been cleverly intertwined. One of them is classified. The hotel boasts room types to suit any client – from the standard Classic to the Royal Suite via Club Rooms and suites, not to mention the one or two bedroom apartments.
So after signing in, what is on offer? There is the elegant Library Bar and 24-hour room service, a classic and infrared sauna, fitness room, private lounges, a conference centre and parking. You can make an entire part of the hotel a private zone, for your family, friends or business colleagues. And the indoor garden terrace is a great place to relax.
If you are hungry you are in for a treat with gastronomic food awaiting in the hotel's Brighton Restaurant, also open to non-residents. The interior design is inspired by the Royal Pavilion of Brighton, giving guests a calm and stately ambiance. If the weather allows, you can enjoy your dinner on the peaceful terrace under a 100-year old Magnolia tree.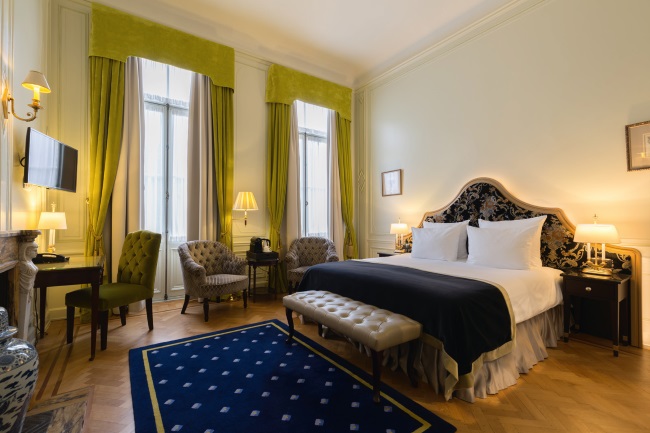 The chef of Brighton Restaurant, Laurent Gauze, member of the Académie Culinaire de France, carefully creates menus inspired by local products. Combined with this seasonable fare, the restaurant proposes an exquisite wine selection from la Maison Girardin at affordable prices. And a special feature is that "grand cru" tasting is available by the glass.
In your room you will find a Nespresso coffee and tea service, Molton Brown of London hospitality products and a well-stocked minibar. The Smart TV can be mirrored with your smartphone or tablet (Apple and Android), and excellent Wi-Fi. You can shop in the hotel for souvenirs, jewellery, works by local artists, beauty products, cigars, and, of course, Belgian chocolates – and you can relax in the lounge with digital international newspapers and magazines.
The reception is open 24 hours/24 and the concierge, valet parking and porter are all at your disposal. There are also services that can be reserved in advance, such as a limousine, babysitting, hairdresser, massage and even your own butler. You can enjoy all this hospitality in a hotel that is proudly environmentally friendly, having been awarded the Green Key and the Entrepris EdoDynamique labels.
What makes a 5-star hotel great are the details, the little extras that take the pampering just that tiny bit further, such as the preparation of your room to ensure a good night's rest. Another big plus is that the buffet breakfast and à la carte menu are available in your room. They are served until midday on weekends and public holidays. Also take advantage of the dry cleaning, ironing and shoe polishing services. And if you park your car in the garage, on your return you may be surprised to find that the windscreen is sparklingly clean and ready for the road.
There are many other ways you can be pampered… but you will have to stay at the Stanhope to find out.
www.thonhotels.com/Stanhope-hotel