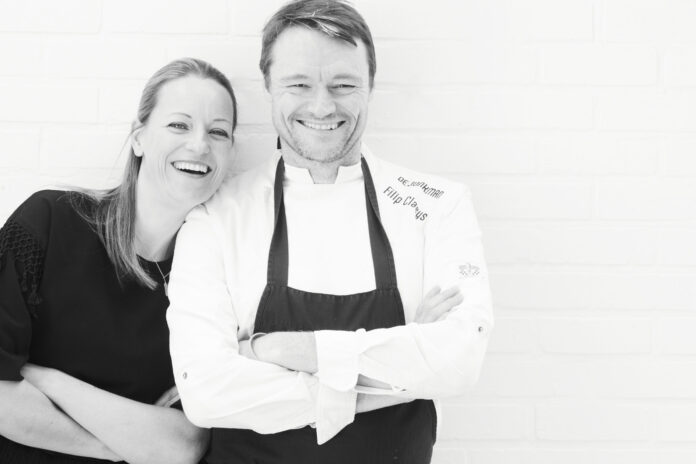 Catherine Feore meets a couple of Belgian food heroes
While reading the Gault&Millau guide to Belgian wine, I was wondering why I hadn't come across many Belgian wines in the wild. The guide came to the rescue as it also contains a list of restaurants that have a focus on Belgian wines. They are rated with little chefs toques and De Jonkman, just outside Brugge (Sint Kruis) has four reflecting the fact that it has no fewer than 18 Belgian wines on its menu.
De Jonkman has two Michelin Stars, but one feels that the Michelin Green Star, signifying sustainable practices, is the one that is closest to chef/owner Filip Claeys' heart. There are only fourteen restaurants in Belgium who have received this additional accolade and it definitely isn't just window dressing. Claeys is passionate about sustainability.
I noted that he has a quote from fictional boxer Rocky Balboa on his WhatsApp, he laughs: "Yes, that's because I've had to fight, if you want to create something right, it's a fight. It would have been much easier to cook mainstream fish that people know, like salmon or tuna. I decided to use bycatch, the fish that fishermen can't sell easily and I probably lost around 40% of my business by making that choice to use lesser known fish."
"If you want to catch one kilo of sole you usually catch around 40 kilos of fish"
He is passionate about sustainable fishing in particular, which inspired him to establish North Sea Chefs (www.northseachefs.be) that celebrates lesser known fish: "If you want to catch one kilo of sole you usually catch around 40 kilos of fish, just to obtain that one kilo," says Claeys. By promoting these fish he creates a win-win situation, where fishing is more sustainable and the fisherman earns more for his catch. The City of Brugge has been inspired by this movement and has organized a 'Fisherman-to-fork' week where restaurants will promote local fish breeds.
no images were found
Claeys is humble about what he's achieved: "It's a global problem, I don't think I'm Mother Teresa or that I can change the world, but I can be an example for my region, for my country. I just think we have to take our share of responsibility."
Coming back to what took me to De Jonkman's – wine, Filip says that you need a good connection between chef and sommelier. Filip has worked with sommelier Vincent Pharazijn for over five years and one feels there is a perfect understanding between them.
"I'd say that 95% of our customers are delighted when they learn that the wine comes from Belgium"
When I ask Pharazijn for an example where a Belgian wine has paired well with a dish, he says there are many examples: "Filip has created a caviar dish that he makes with some butter milk and coffee, I paired it with a sparkling wine coming from the Domaine of Entre-Deux-Monts (Heuvelland). I'd say that 95% of our customers are delighted when they learn that the wine comes from Belgium, it fits in very well with the ethos of the entire restaurant. I'm very happy when I find a wine, or a beer, that works perfectly with a dish that Filip has created."
no images were found
The restaurant also has around 85 different beers, Pharazijn has a particular passion for gueuze which he says works particularly well at a gastronomic level and can be combined with many dishes. Filip says that its bitterness and sourness works particularly well with the sweetness of langoustines, or with goat's cheese.
no images were found
"We're a classic restaurant, so of course people expect most of the pairing to be with wine," says Pharazijn. "But I work with other drinks. We might pair a glass of sherry or Madeira with a starter, or a saki. Right now Filip is creating a dish based on a tartar of sea bass, with seaweed from the North Sea. It has a really umami flavour and it works really well with sake or a Riesling from the Maas valley (Limburg)."
The restaurant is known for its stylish, aswell as friendly welcome. Sandra Meirlevede, Filip's partner is the ultimate hostess. They share the same passion and have created a haute de gamme experience for their diners.
no images were found
If you are looking for the perfect getaway, the restaurant also has arrangements with B&B MANSION9BRUGES and Kasteel Ten Torre, which is less than five minutes from the restaurant in Oedelem.
www.dejonkman.be