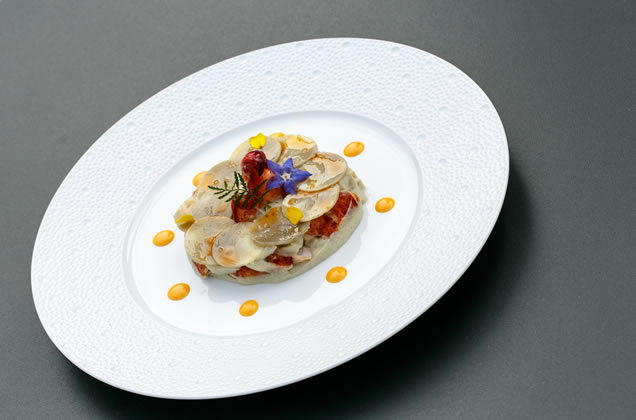 Colin Moors savours haute cuisine dining in a high fashion concept store.
Tucked away in a large concrete edifice on the Chaussée de Louvain is the SMETS concept store, a place for ultra-modern and trendy items of clothing, home accessories, furnishings and more in nearly 4.000 m2 of floor space. An afternoon's retail therapy in such a large space is sure to work up an appetite, so it's very convenient that there's a top restaurant right above you. With easy ingress and egress to the shop floor, The Bowery is just the place for relaxed dining after a hard day's shopping, or for a lunch break in between.
We were offered the tasting menu, which I thought was an excellent way to discover what the chef could do. Happily, the man himself came to every table to make sure all the diners were happy – a nice, old-fashioned touch in so modern a setting. I use 'modern' in a good way, as there's nothing here that jars the senses or distracts from the food. The décor is elegant yet chic and understatedly classy. The only issue I had was the practically unusable butter knife – pretty but impractical.
After our apéros came two amuses-gueules, one was fresh crab, crème fraiche and caviar, the other a rather strange sounding (but glorious tasting) foie gras mousse with black truffle. It was around this time I realized that the stops were being pulled out on this menu and something special would be waiting in the wings to knock our socks off. The olive oil marinated salmon with caviar and a fresh chervil paste and sun-dried baby tomatoes was indeed a very good opening gambit, fresh and lively but subtle and clean on the palate.
Then, just after taking the waiter's recommendation of a rather unusual but well-balanced Rhône red, the star of the show arrived: Sirloin of Australian Wagyu beef served with the lightest velouté on a bed of rice-sized pasta, done just past al dente. Happily, no choice was given to how we wanted our meat cooked. It came blood-red in the centre and dissipated into pink toward the edge and was finished to perfection with a glorious nut-brown sear on the outside. It was, quite simply, the best piece of beef I have ever eaten in Belgium and quite possibly ever.
Pudding was nice, a cleansing sorbet and meringue affair, the only issue with which appeared to be that it was stacked a little high and suffered from the pull of gravity as it was served. Small worries, really.
So, next time you're out shopping on the Chaussée, you could always go for a burger or some frites somewhere. You could but don't you think it would be a bit rude not to try The Bowery?