In our regular Hollywood stars interviews, Together chatted with a Scottish movie star whose latest film could well come true. It was only a few days after he was involved in a scary collision while riding his motorcycle in LA when I spoke to the ever-chipper Gerard Butler. Promoting his latest disaster epic, Geostorm, he was quietly reflecting on his nine lives after several brushes with death while working on a number of movies over the years.
Thankfully the star suffered a few minor cuts and fractures but always the hard man, the 47-year-old Scot was on the red carpet, laughing with reporters and mugging for the cameras. And coincidentally, he referenced that his luck might one day run out.
"I've had a couple of near misses,' he muses, "so I consider myself a generally grateful person for life."
In Geostorm, he plays – in his own words "against type" – a scientist who discovers a satellite in space which can control the weather after the planet suffers the cataclysmic effects of global warming. When the satellite falls into the wrong hands, Earth is suddenly on its knees, praying for a saviour. And only one man can save mankind. Guess who??
Set only two years in the future, it's a telling prophecy of what may become a reality considering the extreme weather patterns seen around the world this year.
And in typical fun yet concise mode, Butler explains why the fictional aspects of the movie could have very positive and very negative effects for the world.
The star chats about his concerns for the future and his own efforts to keep the planet green. And while looking back on his career, waxes lyrical about Adele, a cancer scare and explains if he wasn't an actor, he'd be fat.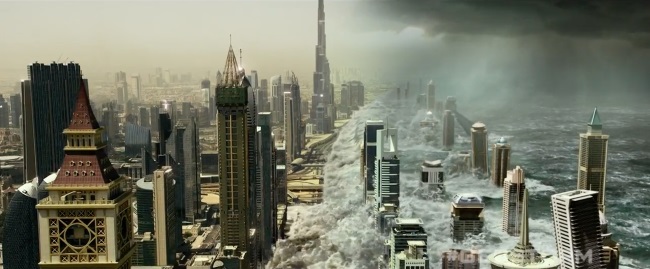 Together: Saving the world again?
Gerard Butler: It's all in a day's work for me. What's new? (laughs). Well I was trying to destroy it in Gods of Egypt so I like to keep it interesting, swinging from one to the other.
Geostorm is a mind-boggling movie, largely because one wonders what would happen if this weather controlling satellite actually existed?
Probably with how things are, the tensions between certain factions, would probably be an absolutely terrible, catastrophic idea. But I can see the upside too, if we could control the weather and the elements, could reverse the tragic trend of global warming and restore and undo some of the damage mankind has inflicted on the world.
Our movie tinkers with the idea of the globally beneficial system that falls into the wrong hands. I like seeing it in blockbuster fiction where we can have a lot of fun with it. I don't want to know the reality. Keep them on very separate sides (laughs).
And I love a script where I play a scientist. I mean, me? (laughs). I get to be a scientist who's also a renegade with a renegade attitude but bless Dean Devlin for thinking of me. Because I don't think anyone in Hollywood has ever thought, 'we need someone to play this scientist, Gerry Butler is our man.'
But you were once training to be a lawyer…
I'm definitely no one's fool, that's for sure. But I'm definitely not scientist smart. Even some of those words, what a mouthful!
How do you sell this movie because it's not squarely a disaster flick?
It's everything to everyone, an action movie, a sci-fi movie. It's a very strong cautionary tale but it's also told with humour which you wouldn't naturally expect but that's the genius of Dean Devlin.
It's set two years from now, quite a frightening prospect…
Well here's the thing, the timeline was altered, because it was supposed to be later down the line, purely because of the drastic weather patterns around the world. Climate change is having an effect sooner than anyone predicted. Look at that barrage of deadly hurricanes smashing into the Caribbean, one after the other. The fires in Santa Rosa, in California, the droughts, the heat waves, the fires, the floods. That's not normal – it feels a little like Armageddon in the last few months and it's time we wake up to that. So setting Geostorm two years in the future, it's not so out of touch with reality. It's a goose bump moment. It's scary.
But the movie gives me hope that mankind, that the powers of the world could come together to reverse global warming. That's the other goose bump moment. Might that happen if the worse happened? I like that question. Will we have to answer sooner than we think? Imagine the whole world could put aside their differences to come together and face this global catastrophe and potentially solve it. Because, I have no doubt they are working on something like this, like the machinery we see in this movie.