When I first moved to the Place de la Liberté quarter of Brussels, which also has the very pretty and evocative name of Notre Dame aux Nieges, there really wasn't very much in the way of eateries on Rue du Congrès. There was the Titanic, a traditional brasserie, which – unlike its namesake – has proven very resilient, but that was pretty much it.
This was surprising since the street – if you block out a few more recent abominations – is attractive and was part of the reimagining of the area carried out in the 1870s. The Rue du Congrès is wide and elegant and leads to what is considered one of Belgium's most important memorials, the commemorative Colonne du Congrès which marks the first Belgian national congress in 1830, but also became the Monument to the Unknown Soldier after the First World War.
It took two Parisians visiting Brussels to look at this street and see its potential. Together's Catherine Feore met with the co-owners Jérémy and Camille. "We came to Brussels just for the weekend, we'd never been before, so we thought we'd just check it out. And so we came and we fell in love with the city," says Jérémy. Three months later they had moved to Brussels and set up what was at first an épicerie.
Metro, boulot, dodo
Though Parisian to the tips of their fingers, the daily grind of life in the 'City of Light' can remove some of the shimmer. "Paris for me, is one of the most beautiful cities in the world," says Jérémy. "You have great foods, great places, but after that it's just, you know, it's a big city. So there's a lot of stress. Brussels, it's more like a village and that's what we appreciate about it. I have two children in Paris, so I go back every two weekends, so in a sense I get to appreciate both." Camille adds that starting a business like theirs in Paris would have been very expensive.
Jérémy and Camille were no strangers to the food business. Camille's parents own the oldest Italian grocery in the centre of Paris. Jérémy had worked in bistros with over a hundred covers. Le Mangeoire, even when at its busiest, always feels relaxed and that is because Camille and Jérémy are consummate professionals.
"Our food is seasonal. In Italy we say that you shouldn't eat less well in a restaurant than at home. Which unfortunately is the case in some restaurants," says Camille. Jérémy describes the food as French/European inspired for the most part: "We like the classics: magret de canard, boudin noir, veal, tartare, but because we aren't like your normal restaurant we serve these dishes with lots of fresh vegetables, rather than say french fries. There's always an option for vegetarians and vegans."
"You shouldn't eat less well in a restaurant than at home"
As a regular and a local, I would add that their dishes are accompanied by well-chosen and often lesser-known wines. You can also enjoy these with delicious and distinctive cheese and charcuterie. In fact, I would say there is little more enjoyable in this world than sipping a glass of wine at Le Mangeoire, nibbling some very fine salami and watching the sun disappear behind the Colonne du Congrès.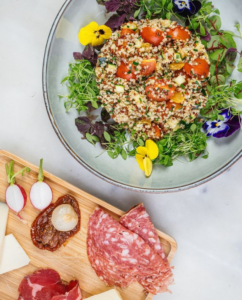 Camille enjoys that they welcome international clientele, "we meet people from all over the world, there are many people who come from the European Commission and further afield." In turn, it is clear from comments that their clientele enjoy the warm service they receive when they cross the portal.
Eight years on from that first weekend Le Mangeoire is very much an established part of the quarter. Le Mangeoire was renovated at the start of the year and a few years ago there was a new addition, when Louis joined the family.
Le Mangeoire is open for lunch from 12 from Monday to Friday, it also open on evenings from Monday to Thursday from six onwards.
Le Mangeoire, Rue du Congrès 34, 1000 Bruxelles – lemangeoire@gmail.com
First published 3 April 2023