St Patrick's Day (17 March) is fast approaching, there is no better place to celebrate than in one of Brussels' Irish bars.
James Joyce once described Ireland as an afterthought of Europe. At the time he wasn't just referring to its geographic location. He would be surprised, if he were to take a taxi in Brussels today, to find that the driver would refer to the area around Rond-Point Schuman as 'Le Quartier Irlandais'.
Joyce might also have raised a quizzical eyebrow that a 'European Union' had emerged, though he would no doubt be pleased – as someone who didn't like narrowly defined nationalism. Like many an Irish person, Joyce exercised his "freedom of movement" – such as it was in the day – to spend most of his life living outside Ireland; for Joyce that took him to Pula, Trieste, Zurich and Paris.
So why, he might ponder, was Ireland somehow at the centre of this 'European Union'? Was it because of Ireland's contribution to literature? It had already bagged two Nobel Prizes for Literature by the year of Joyce's death (1941). Or a nod to Ireland's saving of Europe's intellectual patrimony, with the diligent copying of Greek and Latin manuscripts by Irish monks in earlier centuries? Obviously, he couldn't have known about Ireland's irrefutable dominance of the Eurovision Song Contest. Joyce was a gifted singer, one can only wonder what he would have made of Dana, Jedward and Wild Youth.
The origin of this quarter's Irishness might have been clearer if he had wandered around the nearby streets, especially if he had strolled down rue Archimède and found himself standing outside No. 34, the 'James Joyce' pub. Speaking to a doyen of the Irish Brussels pub, former manager of Kitty O'Shea's (42, Boulevard Charlemagne), Philip McGovern, I learnt that the James Joyce was the first Irish bar to establish itself in Brussels back in 1989. When some were thinking of tearing down walls and pulling back the Iron Curtain that had been drawn across Europe after the Second World War, others were thinking that what Brussels really needed was a pub that served a decent pint of plain. It was a pivotal moment.
Kitty O'Shea's
Kitty O'Shea's was established just one year later and Philip was at the helm from 1991 to 2015, almost a quarter century of working in the heart of Brussels. Kitty's enjoys a unique position because of its proximity to the International Press Centre and the Berlaymont building – the EU's HQ. You might be lucky and spot an Irish Taoiseach enjoying a pint ahead of a European Council, as Leo Varadkar was ahead of the recent summit.
"Kitty's enjoys a unique position because of its proximity to the EU's headquarters"
Never does a journalist feel thirstier than after a two hour technical briefing on the ins and outs of the European budget in, or a thrilling new regulation on a State aid Temporary Crisis and Transition Framework. Once deadlines have been met, the scribbling classes can be found reviving themselves at one of the local Irish bars and Kitty's has the distinct advantage of being the nearest.
There is nothing the press enjoys more than a scandal and Kitty O'Shea was the cause célèbre of her day. The Irish nationalist politician Charles Stewart Parnell's political career was controversially brought to an end, when he was linked to O'Shea's divorce from her long-estranged husband. Joyce would have been astonished that the vilified O'Shea was being so openly celebrated today and even more surprised that a more recent political figure, an Irish commissioner, could be deposed for doing something so seemingly innocuous as crossing a county line to enjoy a drink.
Kitty's serves lunch. We recommend the Steak and Guinness Pie or Kitty's BBQ Pork Ribs, along with a pint of Guinness, though other drinks are available.
www.kittyosheas.be
The Wild Geese
The original 'Flight of the Wild Geese' took place in 1691 when 12,000 soldiers led by Patrick Sarsfield left Ireland by agreement following the Siege of Limerick. 'The Wild Geese' became the term to refer to Irish soldiers who left Ireland to serve in European armies, up until the end of the 18th century. Sarsfield fought with the French army and was killed in the Battle of Landen in Belgium (1693), he's believed to be buried in Huy, in the grounds of St Martin's Church.
Fortunately, when the Irish come to Europe these days it isn't under such strained circumstances. Barry O'Donoghue and Donal Kelleher are relative newcomers and the new co-owners of this long-established part of the Brussels scene. They gave the bar a makeover and used the lockdown as an opportunity to carry out further work. Donal is the front man and Barry brings his chef skills to the kitchen.
"We do everything in-house, we make our pulled pork, our chilli beef and our sauces," says Barry who takes great pride in the produce that the kitchen uses: "We make quality seasonal pub food and we source our beef burgers from a local butcher who makes them from Irish Angus beef."
"There is no better place in Brussels to try the different types of Irish Whiskey"
The bar is popular for watching the Six Nations Rugby Union matches, as well as football and Gaelic Athletic Association matches and it doesn't just attract the Irish crowd. "We have people from everywhere, during the World Cup, we had a sea of blue and white," said Donal. "I had no idea there were so many Argentinians in Brussels. There were also Iranian and Brazilian supporters who came to The Geese to watch their games."
Whiskey Galore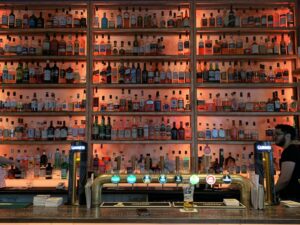 The Geese has one of the most outstanding collections of whiskeys in Belgium. In particular, there is no better place in Brussels to try the different types of Irish whiskey with single pot, blended, single malts and peated single malts all on the menu. There's also an amazing selection from across the world with Japanese, Swedish, Czech and even an Indian whiskey. There's even somewhere called Scotland that appears to produce a few.
Take your copy of Together to the bar and read our article about Irish whiskey, while enjoying one, or even two.
www.thewildgeese.eu