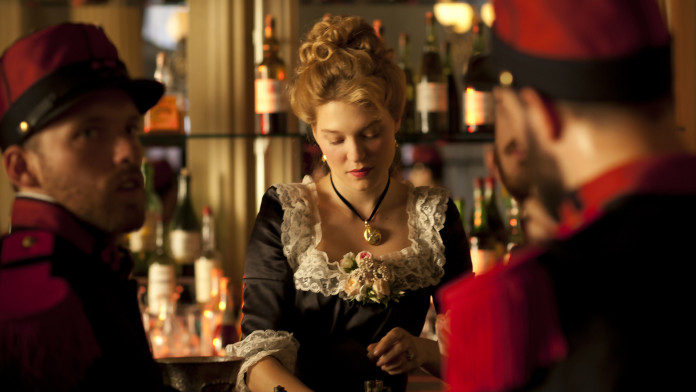 Lea Seydoux is talking absolute rubbish. Or she's fishing for compliments. The stunning 30-year-old Parisienne, relaxed in dark jeans and a white shirt, with her hair scraped back tight, believes her features are not beautiful enough to be a Bond girl.
"Oh my God, I was not sure myself when I got the part," she laughs, brandishing that fabulous Gallic gap in her teeth. "I really didn't think I was pretty enough to play her."
Considering she's a French bombshell, whose fronted campaigns for Louis Vuitton and Mui Mui, not to mention also chosen as the face of Prada Candy fragrance, surely there must be a slight disconnect in what Seydoux sees in the mirror.
Acting for ten years, the actress was making small ripples in European cinema, earning a Cesar nomination for Promising Newcomer for (ironically) Christophe Honore's The Beautiful Person.
Soon Hollywood took notice and cast the star in a number of small significant roles including Tarantino's Inglorious Basterds, Woody Allen's Midnight in Paris and alongside Tom Cruise in Mission Impossible: Ghost Protocol.
And in the last two years, Seydoux has been making her first steps towards the A-list, thanks to an award-winning turn in Sapphic drama, Blue Is the Warmest Colour and her subsequent new role as Bond Girl Madeleine Swann in the latest 007 chapter, Spectre.
While little is known of the plot, proceedings follow on from billion dollar hit, Skyfall, which sees Bond on the trail of a mysterious organization and protecting the daughter of a powerful enemy (Seydoux).
But as Lea reveals, Madeleine is no ordinary Bond girl and doesn't need 007's protection.
Charming yet shy, she gushes about her place in the revered franchise and what it means. She also discusses her botched audition, feminism, dreams of Dragon Tattoo and why she adores Hollywood so much
Together: What does it mean to be doing a Bond movie?
Seydoux: It's very, very important and exciting – working with Sam Mendes, the new Bonds with Daniel, they're great and they are the best.
What does this role mean to you?
So, so much, being a Bond girl is amazing particularly because I'm French and after Eva Green, Sophie Marceau, Carole Bouquet, I'm part of it. I'm part of this universe. It's really great.
Do you remember how you reacted when you got the part?
Yes of course, Sam called me and said, 'You got it, you're in!' I was like [stunned face], he said I'm part of this world and I couldn't believe it.
What did you like about Madeleine when you read the script?
When I first said yes to the film I was not able to read the script because it was not ready and it was also postponed. Sam wanted to rewrite scenes so I didn't really know much about her, apart from what he said.
And then when I act, in a way it's always about your own emotions. It's even subjective. It's a sensation. It's not that I want to play that, play this, it's much more mysterious in a way. Because I'm mostly with Daniel, it was something that's hard to describe and maybe because it's in English as well. I built this character up from my own sensations.
Describe Madeleine.
She's probably quite proud and when they first meet, it doesn't match, they don't get on. Maybe that is because she is on balance with him – she doesn't need him or wait for him to save her.
And I don't know, I haven't seen the film yet. What's on the script and what's on the screen, it's so different. So I don't really know because I'm quite instructive as well, so when I was working on scenes I didn't have the time or the distance as it's been such a long shoot, it's hard for me to describe.
You'll see she's more than just a character on a paper, she's more than that. What's more the chemistry between her and Bond is very strong and you'll discover this, I think it's new in that way.
She appears to be a different type of Bond Girl
Yes, she is different. The Bond girl was a stereotype Bond girl, very sexy, she has sex with Bond and this time it's different. It's almost political this film and you'll see that the producers are extremely intelligent. They really thought through the whole project, the whole story.
Is it feminist?
Yes, in a way… My character, she's something important, she's Bond's equal. She doesn't need Bond, she doesn't want to be part of his world. She's not impressed.
Would you have considered the role if nothing had changed in the Bond thing?
Yes, maybe. I'm not afraid of cliché, even in a small part like Mission Impossible, you can always make something interesting and it's not only that I'm obsessed with the character. It's the director, the actors… I've done very small parts but I'm always interested in the process and Bond is obviously interesting.
You feared you'd botched the audition, yes?
Because I forgot the lines. I think I had, what do you call it, stage fright, because I was very early at my appointment, I had a little beer!
It was a very bad idea because the beer made me lose my concentration. So then I was so embarrassed, and you know when you're embarrassed, you become more embarrassed, so then it was really not good. So then I asked if I could redo the casting.
Do you often get nervous before auditions?
I had stage fright because it's Bond, it's a big film. But I don't know, it's a feeling that I have often and not necessarily just because of a Bond film.
Is using alcohol something you use to calm your nerves?
No…[laughs] No? no, it's not for me. To act properly I need to have a clear mind.
Do you like auditioning?
Yes, I used to like them but now maybe it's more difficult but it's also the reality. You can feel judged a little. And I don't really like that. I feel people now know me, they know my work since Blue [is the Warmest Colour] and they can judge you. Now that I'm more famous, in a way I'm not so comfortable.
But I think you need to use it. We're all scared, actors in general, we have to act on stage or in front of the camera. We have that sensation. Like a writer in front of his white page, you have to use it. For myself, this is what I do for myself. I use it and sometimes it can be very helpful.
What was your most nerve-wracking audition?
Dragon Tattoo…
Why?
Because I really wanted it. You want something and it fires the emotions. It was not meant to be.
So let's talk Daniel. What is he like to work with?
Great, I was a little nervous I have to say. I was very surprised, working with Daniel, he's an amazing human being and actor, it was really a lot of fun and the whole experience was really amazing, I have to say.
I think this is what's new in the film – it's not what you can expect from a Bond film. It's a much more intense, complex and with a deep relationship, and it was really good.
To kiss too?
It was funny for Daniel because he was scared as well and I saw that he was not so comfortable with it so I felt like, 'Oh God, I'm not so uncomfortable then.' We were like, 'Ok let's go… five seconds and go.' [laughs]
You mentioned before you were quite shy as a child, are you still shy?
Not so much but yes, sometimes. Not as much as I was when I was a child but I'm still very shy. Certain moments I think, I feel, I retreat maybe. But it is the same for many actors. It is why many become actors in the first place. I learned to have more confidence through acting.
You're one of the few French actresses having success on both sides on the Atlantic. Why is that?
My parts in English have been very small; Budapest Hotel, Tarantino, Mission Impossible, I've done much more French work but it's something I enjoy, acting in English. I like it, I've always enjoyed the different emotions I play from the language. And many actresses don't speak English, so it's possibly much harder for them.
There's no judgment in America, I really like that. You're encouraged to be different but in France, you must be seen to be humble, to keep a low profile.