Our latest luxury property takes a tour of 77/79 Peak Road, a private residential development set in a lush setting.
New York City-based interior and hospitality design studio, Champalimaud Design, was called upon to design one of the exclusive villas in the luxury residential development 77/79 Peak Road. The award-winning design studio has drawn on the serenity of the surrounding area to execute a sumptuous yet laid back design scheme that eliminates the boundaries between exterior landscape and interior architecture.
77/79 Peak Road is a private residential development envisioned by The Wharf (Holdings) Limited and Wheelock Properties set high above Hong Kong, entirely enveloped in nature. Arguably Hong Kong's most exclusive residential neighbourhood, 77/79 Peak Road is a collection of eight exquisite homes that epitomize luxurious living. The development lies atop a privileged sanctuary that is entirely enveloped in nature, hidden from thoroughfare and veiled by towering trees, offering a sense of seclusion that is highly sought after within the prestigious area.
Champalimaud Design's concept for one of the impressive villas was influenced by the development's surroundings of lush forest greenery, leading them to create a calming oasis with an atmosphere of timeless modernity and an evident connection to the outdoors. The sophisticated interiors evoke a sense of peaceful tranquility, a relaxing retreat from the hustle and bustle of the city, with Champalimaud Design achieving this through finishes of the highest calibre, tactile materials and carefully selected furniture and artwork.
The studio drew on their rich expertise to create an interior concept that suits a lifestyle of luxury and comfort, with functionality in mind. The villa embodies a refined elegance through the niche and unique palette of materials and colours. The interior architectural language is modern and the communal spaces boast white pearl marble flooring, master bathrooms feature statuary marble walls with bianco dolomite flooring sourced from Italy and secondary bathrooms have bottinico and palissandro nuvolato marble, also sourced from Italy. The connection to nature felt throughout the property further instils a feeling of repose. The walls are a lightly stained walnut and the library is a combination of Makore wood from Africa and Walnut.
The affluent and exclusive nature of the property is showcased through bespoke pieces that exhibit the finest craftsmanship and unique materials. Champalimaud Design introduced signature pieces and curated artwork to create an individual look that is flawlessly suited to the development's exceptionally unique exterior and interior design. Each living room features decorative screens in a bespoke walnut and champagne bronze, providing a sense of privacy from other spaces in the home.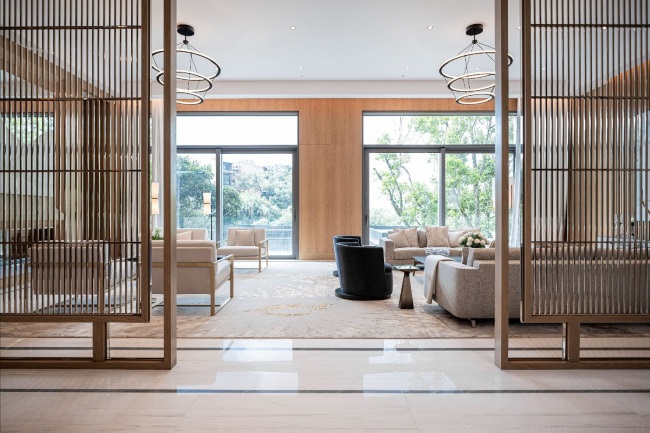 The distinctive natural environment and poetic scenery of 77/79 Peak Road differentiates the project as one with a unique and niche nature that is not found in many residential developments. Champalimaud Design have drawn on this aspect to create a design scheme that will provide owners with a serene and exclusive retreat to suit a lifestyle of sophistication and luxury.
About Champalimaud Design
Based in New York City, Champalimaud Design is an award winning multi-disciplinary design firm with a commitment to creating unparalleled spaces with their clients and collaborators. Run by four partners, including the company's founder, Alexandra Champalimaud, the studio celebrates design excellence and the traditions of craftsmanship.
www.champalimauddesign.com
See more luxury property articles…