Maasmechelen Village shows its lustre as four participate in an international exhibitions, showing top creations.
Jewellery, culinarily inspired and elegantly served. That is what the exhibition 'A la Carte, a culinary journey' will be offering you until 30 June in Maasmechelen Village. After that, the diamond creations will leave for Asia.
After the World Exhibition in Milan and a spell in the MAS, the 'A la Carte, a culinary journey' exhibition is currently paying a visit to Maasmechelen Village. The exhibition is showing 29 jewellery designs with a particular culinary touch. Among other items, there is an asparagus tip on display, which is made of gold, diamonds and rattan. Furthermore, there are silver finger bowls decorated with diamonds and also a necklace of silver, pink gold and diamonds featuring 3D animal motifs.
Every two years, the Antwerp High Diamond Council holds the HRD Awards, which are internationally recognised as one of the most prestigious jewellery competitions. The aim is to place contemporary jewellery designers under the spotlight and stimulate avant-garde ideas. An international panel of experts examined 1,531 submissions and also selected the brilliant creations of 4 talented Belgians and 1 Dutch lady: Mallory Allegaert, Ihsan Jadron, Celine Roelens, Annelies Weinberger and Evi Bakker (NL).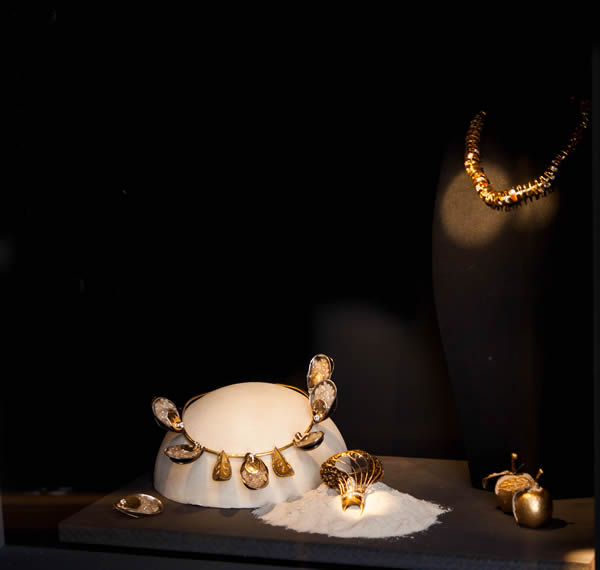 You can visit the exhibition every day in June between 11am and 1pm and 2pm to 6pm.
In addition, on Wednesday 22 June Maasmechelen Village is organising the reading "Diamant in al zijn facetten" (Dutch only). Katrien De Corte, Chief Officer Education & Industry of HRD Antwerp, explains the diamond process, from mining to sale, and talks about the city of Antwerp's role in the diamond world. For more information and to sign up for this event: www.maasmechelenvillage.com/en/campaign/diamond-exhibition
www.maasmechelenvillage.com
instagram.com/mmvillage
twitter.com/mmvillage
www.facebook.com/MaasmechelenVillage
Copyright images: Maasmechelen Village