And speaking of New York's ubiquitous renown for spectacle, your Christmas adventure will require little more if you manage to snag tickets for The Nutcracker, performed by the New York City Ballet at Lincoln Center. It's the quintessential fairy tale experience for all ages, but especially magical if you're bringing kids along with you.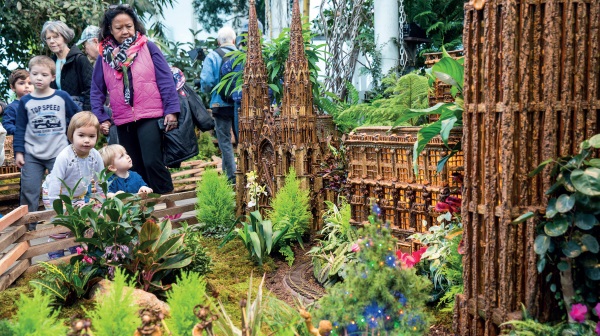 If that's the case, be sure to also take them to the Holiday Train Show at the New York Botanical Gardens, and watch with them as the old-timey model trains zip through an enchanting miniature version of the city, somehow recreated with plant materials.
Then again, perhaps the most enchanting thing to witness as a family is the Christmas home decorations at Dyker Heights. Every year, the houses of this Brooklyn neighbourhood carry out a ferocious competition for the most original – and most over-the-top – Christmas lights, to the delight of many tourists and locals alike.
And if you happen to be in town as early as December 17th, why not join a bunch of those locals and help them perform 'Unsilent Night': meet the crowd at Washington Square Park where a number of vintage boomboxes will be handed out to participants along with cassettes, all featuring different parts of the eponymous composition by Phil Kline. Then, march alongside everyone as the piece plays out through all the speakers, creating a communal music experience all the way to Tompkins Square Park.
Now, moving on to New Year's Eve, the problematic topic of Times' Square inevitably comes right back to bother us. Of course, no one can stop you from heading there to watch the ball drop at Midnight. Therefore, if you must subject yourself to all manners of discomfort and, again, annoying tourists (which, admittedly, you are also), I should at least remind you to be well-prepared: layer up as much as you can, be sure to pack lots of snacks (especially if this is a family outing) and don't forget to keep a close watch on your bags and other belongings.
Or, you could attend the fireworks at Prospect Park instead, a rather more 'low key' event with live music from 11 p.m., free hot chocolate and of course fireworks at the stroke of midnight (according to Timeout, "the best vantage points are at Grand Army Plaza, inside the park on West Drive and along Prospect Park West between Grand Army Plaza and 9th Street").
And finally, an even healthier alternative way to ring in the New Year would be to participate in the NYRR Midnight Run in Central Park. Start off at 10 p.m. by dancing with your fellow joggers. Then, at midnight, join them in this night time run around one of the best places to jog on the planet while, of course, never failing to look up at the fireworks. Now you're really part of the family.