Yesterday, the 1 millionth visitor walked through the front of door of The Mob Museum, The National Museum of Organized Crime and Law Enforcement. To celebrate this milestone, the Museum showed Bill Tveitnes of Las Vegas with champagne, balloons, a confetti launch and… showgirls. He also received a complimentary lifetime membership and the 'key' to the Museum presented to him Executive Director Jonathan Ullman, while Oscar B. Goodman made a proclamation.
Goodman told the crowd on a cold Tuesday afternoon, "Only in Las Vegas can you have a Museum like this in the greatest in the city in the greatest country in the world."
A surprised Tveitnes remarked: "I had always wanted to see the Museum. What a day to choose!"
Located in downtown Las Vegas, The Mob Museum provides an interactive journey through true stories. From the birth of the Mob, to today's headlines. Shadows and whispers. G-Men and Made Men. Whether you like it or not, this is American history. This look at organized crime's impact on the world reveals an insider's look at the events and characters of the continuing battle between the Mob and the law.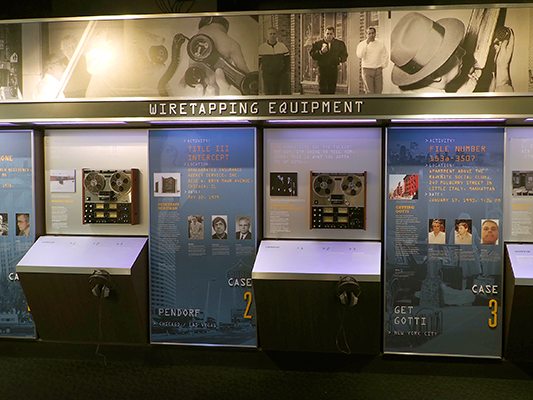 Real stories are brought to life with multi-sensory exhibits and unparalleled insights from those on the front lines of both sides of the battle. The museum states: "We bring Mob stories to life so completely, you'll feel like you're part of them. But hey—you didn't hear it from us."
Photos: The Mob Museum