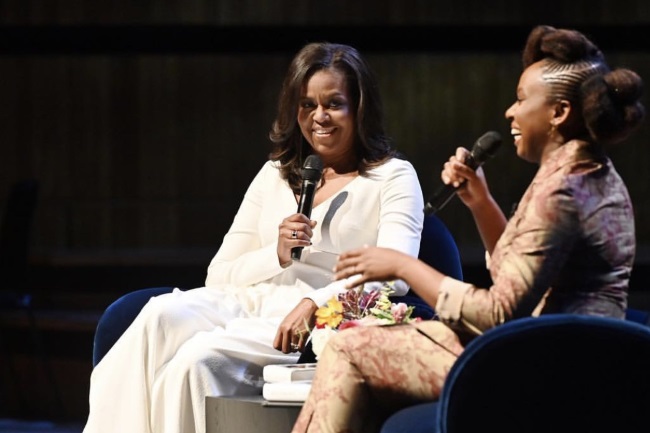 We are delighted to welcome to our Personal development a remarkable writer. Watch her Ted talk, entitled The Danger of a Single Story.
Chimamanda Ngozi Adichie, born 15 September 1977) is a Nigerian writer whose works range from novels to short stories to nonfiction. She was described in The Times Literary Supplement as "the most prominent" of a "procession of critically acclaimed young anglophone authors [who] is succeeding in attracting a new generation of readers to African literature".
Adichie has written the novels Purple Hibiscus (2003), Half of a Yellow Sun (2006), and Americanah (2013), the short story collection The Thing Around Your Neck (2009), and the book-length essay We Should All Be Feminists (2014). Her most recent book, Dear Ijeawele, or A Feminist Manifesto in Fifteen Suggestions, was published in March 2017. In 2008, she was awarded a MacArthur Genius Grant.
Adichie was born in the city of Enugu in Nigeria, and grew up as the fifth of six children in an Igbo family in the university town of Nsukka in Enugu State. While she was growing up, her father, James Nwoye Adichie, worked as a professor of statistics at the University of Nigeria. Her mother, Grace Ifeoma, was the university's first female registrar. The family lost almost everything during the Nigerian Civil War, including both maternal and paternal grandfathers. Her family's ancestral village is in Abba in Anambra State.
Adichie completed her secondary education at the University of Nigeria Secondary School, Nsukka, where she received several academic prizes. She studied medicine and pharmacy at the University of Nigeria for a year and a half. During this period, she edited The Compass, a magazine run by the university's Catholic medical students. At the age of 19, Adichie left Nigeria for the United States to study communications and political science at Drexel University in Philadelphia. She soon transferred to Eastern Connecticut State University to be near her sister Uche, who had a medical practice in Coventry, Connecticut. While the novelist was growing up in Nigeria, she was not used to being identified by the colour of her skin which suddenly changed when she arrived in the United States for college. As a black African in America, Adichie was suddenly confronted with what it meant to be a person of colour in the United States. Race as an idea became something that she had to navigate and learn. She writes about this in her novel Americanah. She received a bachelor's degree from Eastern Connecticut State University, with the distinction of summa cum laude in 2001.
Read more on her Wikipedia page….
Chimamanda Ngozi Adichie website: www.chimamanda.com
See more Personal Development articles here.
Photo: Oprah Becoming, South Bank Show