Simon Leysen suggests a trip to Cambodia's best holy places and symbolic cities in Siem Reap.
Angelina knew. Or at least the director of Tomb Raider did. When looking for a truly magical setting for the movie, the ruins at Angkor Thom were a perfect fit.
The odds of finding a rather attractive heiress in tight fitting shorts and two large calibre handguns tied to her legs are rather slim. On the other hand, it is almost certain you will be amazed by the templates and ruins of Siem Reap.
Cambodia is a truly charming place, temples set aside – the scenery, colours and especially the people make it worth the travel.
Once you leave the overly touristic centre of the city, you can stroll around the streets, discover the markets (especially the meat market if you can stomach the smells), and have some amazing food at local eateries.
As enjoyable as the city may be, most people visit Siem Reap for its temples and palaces.
Angkor Wat
Firstly, there is Angkor Wat, Cambodia's best known symbol, which is featured on the country's flag and is the largest religious monument in the world. Originally built as a Hindu temple for the Khmer Empire but gradually transformed into a Buddhist temple in the 12th Century, its sheer size, amazing details and the ambiance make Angor Wat truly special. Despite the fact that it is a popular tourist destination, it never feels crowded; there are hundreds of hallways, corridors and corners where you can be alone.
Angkor Thom
The city of Angkor Thom, of Tomb Raider fame, is one of the most impressive sites in South East Asia, and it's worth spending a few hours there. The Bayon Temple, standing in the exact centre of the walled city, represents the intersection of heaven and earth –the enigmatic smiling faces of Avalokiteshvara and its extraordinary bas-reliefs make it both mysterious and magical.
A third Siem Reap stop should include Ta Prohm, a city left untouched by archaeologists, except for the clearing of a path for visitors and structural strengthening to stave off potential collapses. This means that the forest has slowly reclaimed the city and trees envelop every structure. Unlike Angkor Wat, this site does get busy, and it is best to go very early and bring a torch to see some of the more hidden features.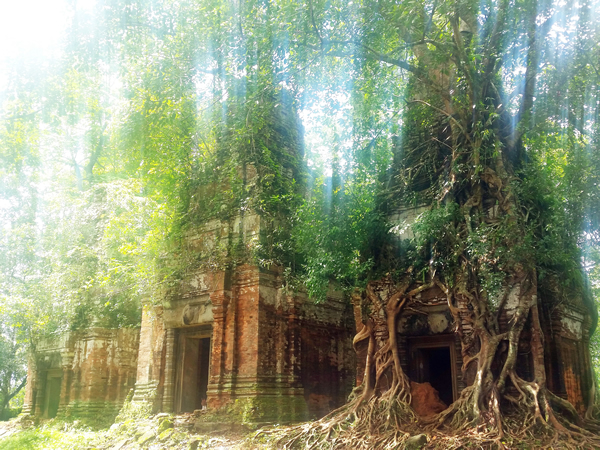 Siem Reap temples and lost cities
The region of Siem Reap has ruins, temples and lost cities galore: Banteay Srei , Preah Khan  and Banteay Kdei, to name but a few, are all are worth exploring over a few days to avoid temple fatigue.
How to get there
A range of airlines fly to Siem Reap.  A pretty good option from Europe is to fly into Singapore and take a local low cost carrier (Silk Air or JetStar).
Where to stay
There are tonnes of options from youth hostels to 5-star accommodation. One does stand out . The Residence D'Angkor is a haven of tranquillity with amazing service, a superb chef and one of the most stunning pools you will ever see. A real must.