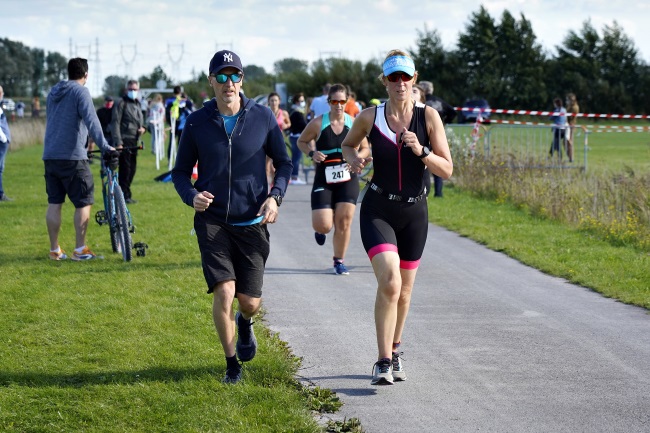 Our sports coaching article looks at little-known sport that people love to try.
The triathlon is a sport that everyone has heard of but which remains unknown, except among its followers.
It's been just 20 years since the triathlon became an Olympic discipline, in Sydney in 2000, over the standard distance of 1,500 meters swimming, 40 kilometres cycling and 10 kilometres running. In Belgium, the triathlon has been popular for many years, but is experiencing a real boom, according to Fred Guerdin, triathlete and sports coach. He says: "For a few years now, we have noted that the races are immediately filled, as soon as the registrations are open. There are more and more people who want to do it, men and women of all ages".
Fred Guerdin started triathlon six years ago after sustaining an injury in alpine skiing. "I couldn't go back to competition right away, and I had to do endurance sport to keep in shape." His debut was "a little chaotic" by his own admission, but he progressed quickly and got caught up in the game. "Two months after my first training session I was completely addicted. I couldn't do without it, and I got into the habit of working out every day "
Drawing on his personal experience, Fred now coaches, in partnership with the physiotherapy practice Strebelle in Mons, for anyone who wants to get started. Fred says: "Everyone can become a triathlete, but you have to take some precautions. I always recommend doing a test, go see your doctor to be sure you start in good physical condition."
And to get started, men or women, there is no age limit. "A lot of women are taking part in triathlon today and are really not there just to make up the numbers. They have really good endurance and are extremely fast."
With six months of training it is possible to do a first triathlon. He added: "You would be on a sprint distance triathlon, which includes swimming 750 meters in open water, cycling 20 kilometres and running 5 kilometres."
Useful links: fred@guerdin.com or @fredguerdin on Instagram