For our travel section, Together took a trip to a stunning hotel in a stunning spot.
The dreamy island of Mauritius made its appearance on cartographers' travel maps in the early 16th century. It was discovered by Arabs, and one can only imagine what they would think of the island now. It is popular with tourists and yet still manages to retain a certain calm elegance. And some of the accommodation is very calm and very elegant indeed.
The Sofitel So Mauritius promises "luxurious seclusion combined with French know-how awaits you at this eco-chic hotel in Bel Ombre". It delivers that and then some.
The building was designed by the highly experienced, innovative architect Lek Bunnag, who hails from Thailand and has won numerous awards around the world. And the fashionable interiors come courtesy of former fashion designer Kenzo Takada, who came out of semi-retirement to concentrate on decoration, with a brand of tableware, home objects and furniture. His Gokan Kobo (workshop of 'the five senses') has inspired many other designers.
Kick back in one of the most beautiful places on the planet and relish personal 24-hour service by So Special butlers, state-of-the-art technology, pampering spa treatments and Sofitel's exclusive MyBed for dreamy nights. This 5-star hotel also has an eye on the environment – an oasis of serenity, it captures the spirit of the island, inspired by the tranquil lagoon.  Just slow down and relax, surrounded by nature.
There is more to Mauritius than sun, sea and sand. Among the lush vegetation and tropical forests is another world to discover as you travel the island. For those who love nature, one of the main 'green' attractions is the Black River Gorges National Park, which extends over 16,680 acres and provides a haven to endangered native plants and animals. It is home to around 311 species of native flowering plants and nine species of birds that are only found in Mauritius.
Green tourism is growing rapidly through the number of reserves and estates that are now beginning to open their doors to tourists. Together, they offer many activities ranging from trekking to canyoning to horse-riding, all offering exceptional panoramic views over the beautiful Mauritian landscape.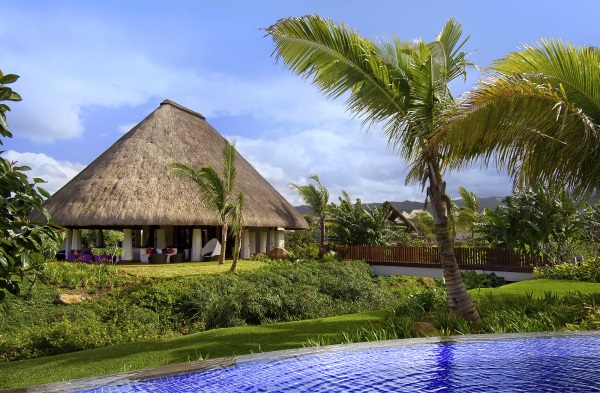 Among the many Mauritius trails, The Dodo Trail is an international Trail Running event, a mountain race that runs through the highest peaks of the south and western part of the Island offering amazing views as it runs through unique and exclusive private properties. You pass beautiful colourful lagoons from the mountains and dense tropical forests in the National Park Black River Gorges, which hosts the rarest birds on the Island, such the Pink Pigeon or the Eco Parakeet.
Of course, the sea and sea life play a massive part of any break here, including plenty of diving opportunities and boat trips. One company offers several services such as excursions throughout the Island, scooter and bicycle rental, catamaran cruise and – bucket list, surely, – swimming with dolphins.
And if all that has tired you out return to your beach front So Mauritius resort and relax as you overlook the ocean in your exclusive beach villa, luxuriating in complete comfort, privacy and space. High ceilings and gentle curves exude Zen-like simplicity, flowing naturally into the private garden. Outside, there's a swimming pool, yoga pavilion and hammam – all yours. You can prepare a snack in the fully-equipped kitchen, dine by candlelight in the intimacy of your villa, or relax while your So Special butler prepares a barbecue.
And if that's not enough go a comfort step further by discovering the Sofitel So SPA, set in an oasis of serenity and tropical vegetation, where gentle ocean breezes calm the soul. Relax with a glass of delicious, health-giving lemongrass tea and yield to the expert hands of friendly therapists with a Mauritian massage, traditional Chinese treatment, state-of-the-art beauty treatment or perhaps acupuncture with golden needles. Expert therapists take time to understand your needs and will even heat your treatment bed to your desired temperature.
By now what else can there be? Fond of gastronomy? Dine in style in the chic hotel restaurant Le Flamboyant, where the chef creates tantalizing seafood dishes with French flair. Using local herbs and spices to enhance fresh, seasonal produce, he's an expert in refined Mauritian cuisine along with vegetarian, halal and Chinese.
Your taste buds are inspired, to the sound of waves lapping the reef. If you get a chance to go, you will be So fortunate…
www.sofitel-so-mauritius.com/en
www.tourism-mauritius.mu/en