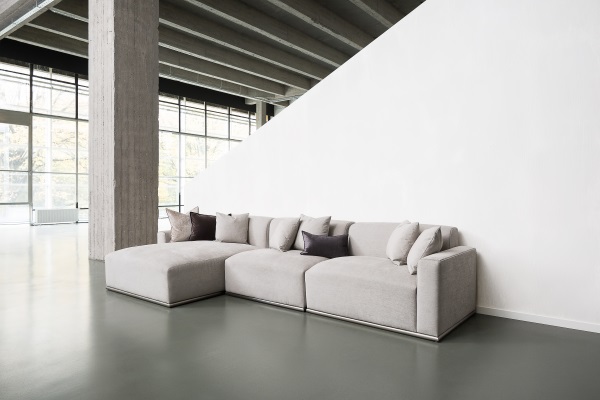 Jeanie Keogh ensconces herself in a very comfortable sofa for her latest interview about Belgian furniture in Marie's Corner.
Sitting down with Marie's Corner CEO Serge Silber at the company's flagship store in Brussels, it doesn't take long to get into the comfort zone. We're perched on the Dakota, one of the most popular sofas, discussing the evolution of the renowned business in the 25 years since founders Laetitia Zichy and Alain Low started making furniture in their garage.
It's hard to concentrate, the sofa is that comfortable. But it's not just the coziness; the feeling comes close to sitting in zazen. What we're doing is not simply sitting, but experiencing the furniture, becoming one with the down and microfibre-filled cushion.
The company motto – 'addicted to comfort and elegance for 25 years' – is a statement of truth couched in plain terms: the Dakota we're nestled in really could create addictive tendencies, and not just for the couch potato at heart. Silber hunkers down to explain that comfort is what Marie's Corner has become known for, and the crux of its continued success lies in "creating something that we would want for ourselves in our own homes".
"Comfort is two things: the first contact – the moment you sit down in it and you feel good. Then, there is the fact you're going to sit on it for two or three hours, that's what's going to make the difference from one chair to another."
Silber begins talking about the new direction the company has taken since he and partner Philippe Vanhemelen bought the business a year and a half ago. They're moving away from the company's classical and neoclassical reputation and more towards contemporary models, trimming down the collection to clarify the style, and giving the brand image a fluffing up.
They've introduced straighter, purer lines to give it a more modern feel, eliminated models which were similar to each other to avoid confusion and product overload, and returned to what Silber calls the DNA of Marie's Corner – products that are made in Europe using natural materials in a mix of styles and colours.
"Today, we're starting to have five categories – classic: certain models that the clients love and keep coming back to; neoclassical: models that are a little harder to define, but that are not entirely classical and not contemporary; and contemporary: like the San Francisco, Dakota, products that we introduced with this specific goal in mind, which we already had in the collection, but have been able to showcase more, retro-vintage and cottage, models that are deep and low, more American, with a focus on comfort."