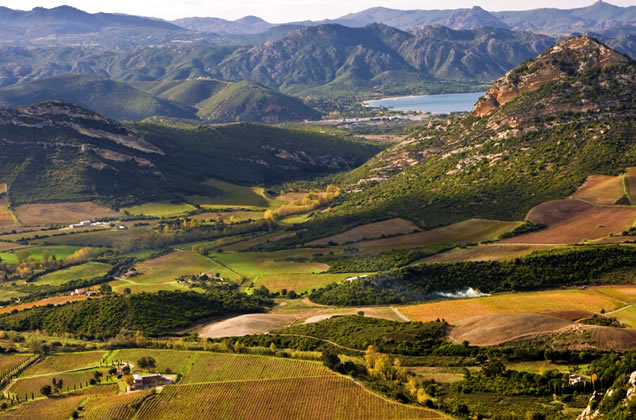 Corsica is blessed with many options when it comes to preparing its gastronomy.
Corsican food has many connections to Italian gastronomy but if there is one ingredient that stands out on l'Île de Beauté it's the humble chestnut. And the use of chestnuts goes way back in the island's history. For many years it has played a significant role in Corsican life, as witnessed by a traditional wedding lunch in 19th century Castagniccia which boasted twenty-two different courses prepared using chestnuts as the main ingredient. The pork they ate surely tasted of it too since the pigs were left to eat chestnuts on the forest floor and were also fed on chestnut flour.
Rich in calories, this flour is used to prepare polenta and cakes. Popular dishes include Fritelli castagnini (chestnut flour fritters) and nicciu (chestnut flour, cooked between two iron plates).
Meat and game are also abundant. Stews are very popular, such as Stufatu made with beef meat, ham, garlic, onion, clove and herbs, as is Sanghi di maiale incu l'uva secca, a blood sausage with raisin, similar to the French boudin, and popular wild game includes wild boar (singhjari), thrush (tordulu) and hare (levru).
Surrounded by water Corsica is inevitably a paradise for fish lovers, with forty different species to choose from. Fish soup (azziminu) is made with both sea fish and river fish. The national cheese, brocciu, is used also with fish, such as sardines stuffed with brocciu (sardine piene incu u brocciu), and Corsicans are also partial to roasted eel (anguilla arustita).
For those with a sweet tooth we return to the chestnut once more, since its flour is the base for many of the island's delicious cakes, such as Falculelle from Corte made wıth brocciu, sugar, flour and egg yolk, and cooked in the oven over a chestnut leaf.
Many special cakes are baked to fit feast days. Strenna (a pie made with flour and sdruttu dough and a brocciu filling) is prepared in Vico for New Year's Day, panzarotti (beignets made with flour, rice and yeast) are prepared in Bastia for St. Joseph's day and the dramatically titled pan di i morti for All Souls' Day in Bonifacio.
Wash it all this gorgeous food down with a glass of wine from, among other regions, Cap Corse, Sartène or Ajaccio. If ale is more your thing, try biera accumudata cu a castagna – that's right chestnut beer brewed by the Pietra Brewery. Bon appetitu !
For more information about travelling to Corsica: www.corsicatravel.be
=
For more information about travelling to Corsica: Corsica Travel, the Belgian specialist travel company for Corsica.
www.corsicatravel.be