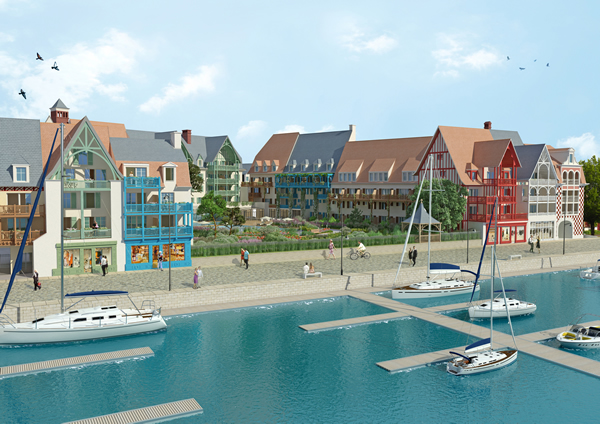 La Presqu'île de la Touques
I crossed the bridge that connects Deauville to Trouville – named Pont de Belges after the brave Belgians who lost their lives trying to defend it in 1944 – as I headed to Robert & Denis, fish specialists who do a wonderful line in oysters and dry white wine. Low on the horizon, across the water, I could see the busy spot where work is underway on the largest project of the decade in Deauville: the re-urbanization of Presqu'île de la Touques, a real challenge for the town and its inhabitants, and something of which they are justly proud.
La Presqu'île is spread across 6.3 hectares (over 15 acres) and is situated between la Touques, the sea and the town centre of Deauville. To transform this space into an area that is lively throughout the year, the town launched a huge project of urban renovation.
The objective is to transform this region, which has seen no real activity for 25 years, into a lively and multifunctional area so that it will become a showcase of the lifestyle and craft of Deauville. The aim of the different contributing parties is to offer a more pleasant place to live, where the architectural character will be protected, and to bring the area to life so that it fully represents the dynamic and colourful character of the Deauville of tomorrow.
Formerly a hub of industrial and maritime activity, a new image of la Presqu'île is now taking shape. Ideally situated along the seafront, Presqu'île will boast housing, shops and businesses, as well as four new squares and a promenade. The area will equally host the accommodation of the future Pierre & Vacances premium residence.
The future 5-star Pierre & Vacances premium residence of Presqu'île de la Touques will be situated alongside the marina and La Touques – less than 10 minutes from the centre of Deauville and close to the train station – with an expected opening date in Spring 2017.
The Residence is in keeping with the iconic architecture of the town of Deauville, inspired by the traditional Normandy and Haussmanian styles, with its timber frames and wooden shutters. While maintaining the styling of the town, the residence also responds to the energy efficiency standards and technical demands of modern buildings. The 161 one, two and three bedrooms apartments, will be dotted across low-energy buildings of controlled heights (just three or four floors). 38 of these apartments will be installed in the Customs House which will be restored by Pierre & Vacances-Center Parcs group. The upmarket residence will equally offer numerous services including indoor and outdoor pools, a spa and a landscaped garden.
Find out more: www.pierreetvacances-immobilier.com