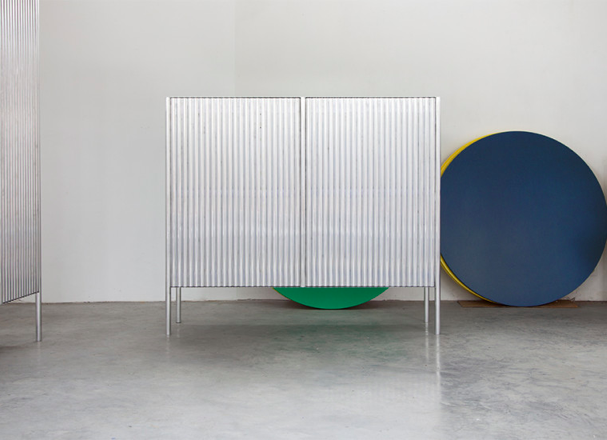 Design: The recent Collectible Design Fair in Brussels saw the launch of a striking new series.
The Belgian duo Muller Van Severen have launched ALLTUBES, a new series of objects consisting of the repetition of round aluminium tubes. The series includes several cabinets, a bench and a chair and forms a family with the same genes, but different characters. ALLTUBES can be seen at a solo exhibition at Valerie Traan in Antwerp and then travels to 'Design! Muller Van Severen at Villa Cavrois', an exhibition by Muller Van Severen at the iconic Villa Cavrois as part of Lille Métropole 2020 World Design Capital.
ALLTUBES is a new series of objects consisting of the repetition of round aluminium tubes. It is the repetition of this aluminium tube that recurs in all objects. Through the rhythm and repetition of the round shape, the objects are stripped of their severity. This also creates the wavy effect and gives the surface the opportunity to play with the light. By bringing together the same element each time, surfaces are created and the whole finds its strength, literally and figuratively.
With the cabinets, the top surface gets a 'soft' side due to the confluence of the tubes at the top. Functions are created by an occasional simple fold. Like legs of a bench. In the case of the chair, the tube becomes both a leg and a banister or a seat in one flowing movement.
There are no hinges, rivets or door openings visible, they dissolve or visually disappear in the circuits of the round profiles. This makes the cabinets more like volumes, like mysterious plinths, stripped of front, back or side. Only by extending the four tubes do these volumes come off the ground, and the tubes become legs or supports that illuminate the whole. They become free-standing objects in the space, characters in a setting.
Fien Muller and Hannes Van Severen explain the reason for the title: "The title of the exhibition ALLTUBES refers to the repetition of the material and the material itself, in this case the aluminium tube. A new universe emerges from tubular constructions. The approach is always the same: start from an element to exploit its potential, see how far one can go with it. In the case of the cabinets, the repetitive rhythm of the pipes placed next to each other – causing undulations – makes you forget the coldness of the material. In the bench and the chair, bending the material softens its hardness." www.mullervanseveren.be