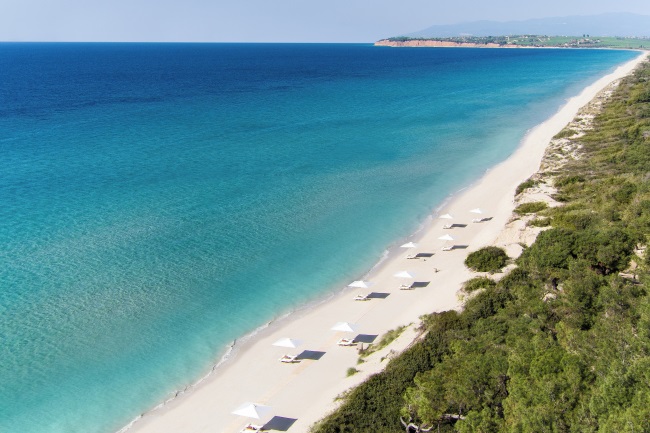 In our latest Ecological Travel article Catherine Feore looks at a quite remarkable resort.
A perfect chance to reconnect with nature and reconnect with loved ones.
In what was a tumultuous year for so many, the world renowned family resort of Sani in Halkidiki, Greece had something to celebrate. It was recognised as the 'World's Leading Luxury Green Resort'. The commitment to sustainable and ethical practices, which enhance and protect not just the environment, but also the social impact of this location, were found to be second to none – it is a win which reflects a deep-seated commitment and is the perfect place to reconnect with nature and with loved ones.
At a time when travellers are increasingly aware of their environmental impact, destinations are running to catch up. Sani shines the light on how to meet all the requirements of a luxurious stay while ensuring that you can return to its unspoilt azure beaches, forest trails and glorious wetlands humming with wildlife, again and again. With the high number of return visits, this is something guests clearly want to do.
Catherine spoke to Eleni Andreadis, the Director of Sustainability at Sani Resort.
Together: How long has Sani been going for?
Eleni: The resort was started by my grandfather and a partner back in the 50s, it has slowly developed into what it is now, which is five hotels in a one-thousand acre forest reserve with forest trails and long, sandy beaches. It has been a family business for years, we have some additional investors, but the family is still very much involved.
It is really a beautiful spot, I grew up here, so I'm biased, but it is a beautiful corner of the world.
Has the resort always had a strong commitment to sustainability, or did that emerge over the years?
It's definitely been something that's been there from the outset. The hotels were built with a lot of care and respect for the natural landscape. I joined the company 12 years ago, which is when we formally started the green programme, we set up recycling with private companies before it was offered by the municipality. Today we have more than 100 Key Performance Indicators, on everything from waste to water use.
We are a carbon-neutral resort, one of the biggest steps we've taken is moving to renewable energy over the past two years. We're quite proud of that. There's still more to do, but we're ambitious in this area.
You also invest in the local community?
My grandfather and his partner have supported the renovation of the local church and school. Today we support more than 40 organizations from hospitals to cultural associations. We are embedded in our community who are a large part of our workforce and so we want to be a positive force.
We have a large wetlands project where you can find more than 225 species of birds; to put this into context, the total in Greece is 450. We've worked with local schools to create educational materials and run programmes for the wider community to learn about Greece's wildlife.
Is it important for your guests?
I can more confidently say that what we do is meaningful to our guests, we have a lot who visit us again and again, it is also part of their experience, visiting the wetlands, forests and beaches.
I noticed that you even have beekeeping!
More than 60% of what we use is produced within 100 miles of the resort, for example, we have soap made locally from olive oil and we hold eco-workshops on everything from traditional crafts to marine litter; we've supported producers with scholarships to help them develop sustainable farming practices and to reach a wider audience with their produce. This is something we're really passionate about.
You are a luxury resort, with many activities, is there something for all the family?
There really is so much to do. For me, having time to read a book on the beach is heaven, but there are lots of things to do for those who like more active holidays. We have the Nadal Tennis Academy, the Chelsea Football Academy, lots of water sports and of course all the forest trails, including an adventure park with a zip wire.
With vaccination, people are itching to travel again, but are still concerned about the pandemic and the need to take serious measures to protect their own health and the health of others. What has Sani's approach been?
We're blessed because we have such extensive outdoor areas. We already tested this last year with our #OnlyatSani protocol. We welcomed 10,000 guests and had zero cases of Covid all season. We were one of the first resorts to be certified under the Covid Shield Programme. We have discreet measures throughout the report and provide an all-tested environment employing world-class health and safety measures, including a professional medical team and on-site testing, so that guests can really enjoy total peace of mind.
So, to sum up it's been a difficult period for all of us and it's difficult to imagine a time when getting away from it all and enjoying relaxation or play has been more needed. So whether you're a god or a goddess, or even just a mortal who needs a luxury holiday, Sani is the place to recharge and experience the beauty of Greek nature and hospitality. Enjoy!
www.sani-resort.com