In our regular lifestyle books pages we at a work from Taschen that has tracked down all manner of truly moveable homes.
In this illustrated volume about nomadic homes, Philip Jodidio explores some of the most remarkable examples of homes on the move, from revamped Airstreams and clever luxury houseboats to refugee housing by Shigeru Ban. In an abundance of shapes, sizes, and extremes, each abode is presented with interior and exterior photography and a profile of its concept, designer, and inhabitants.
Nomadic homes come in all shapes and sizes. They are for the wealthy and the poor, the trendy and the out-of-luck. Changing one's place of residence is an endeavour that is as old as humanity, for reasons of season, or, more recently, to better occupy leisure time.
Written and edited by Philip Jodidio, this volume with illustrations by Russ Gray contains some of the most remarkable examples of homes on the move. Starting with totally revamped Airstream mobile homes, and going on to spectacular moveable vacation houses of the Epic Retreats "pop-up boutique hotel" in Wales, this book doesn't stop moving, surveying the best in campers and tents, and going on to extravagant marine dwellings like BIG's Urban Rigger, or the Manta Underwater Room in Zanzibar. At the other end of the spectrum, we find refugee housing for those forced into a life on the move, including shelters designed by the Pritzker Prize–winning architect Shigeru Ban.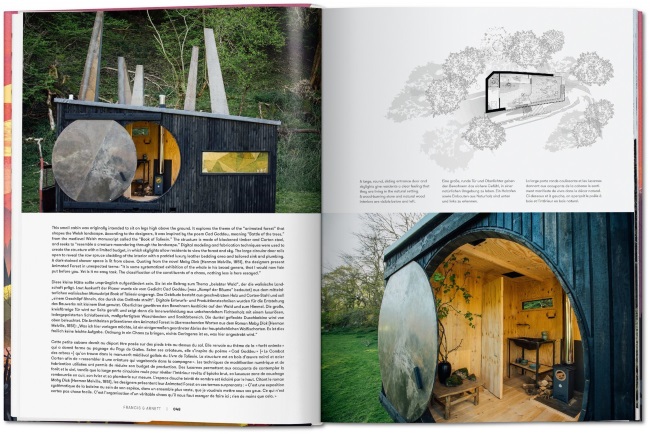 Philip Jodidio (born 1954) studied art history and economics at Harvard and for more than two decades was editor-in-chief of the French art magazine Connaissance des Arts. He is widely regarded as one of the leading architecture writers and his impressive publishing oeuvre is testament to his superior knowledge of space, material, and form. From alternative living innovations to the careers of master architects such as Zaha Hadid or Jean Nouvel, Jodidio is the international authority on contemporary architecture.
Nomadic Homes: Architecture on the move €49.99
www.taschen.com