In our latest Luxury fashion article we look at a "daily ritual".
Every day a new company brings out a different cosmetic product. But on 3 December 2021, Belgium's La Maison Eole's Anne-Sophie Charle-Ewbank de Wespin, along with artistic director Charles Kaisin, launched something completely different – a full range of high quality cosmetics all inspired by ingredients from the family vineyard le Domaine de Chant d'Eole in Quévy-le-Grand, 12km from Mons.
In the end, as Kaisin said: "It is not a range, it's a collection. They are not care products, it's a daily ritual. They are not made out of 1,000 ingredients; they are natural ingredients chosen with care." Waxing lyrical, he adds that Eole, the god of wind, is literally breathing its benefits on the collection of 16 products comprising face care, body care, shower oil, perfumes ('Egalité – for him and for her) and candles in four ranges: HER, HIM, HER&HIM and HOME.
De Wespin was 44 when she decided to change her career path and go back, literally, to her roots. Passionate about vineyards and cosmetics, she set out to use ingredients like polyphenols, proteins, oils and minerals from the wine production process to create an eco-responsible, quality and decidedly Belgian cosmetics brand. The company uses expertise from local laboratories, research and product development specialists CeREF in Mons and CELABOR local scientific and technical services centre in Herve, near Verviers.
Boasting the magic 'Wine Extract' ingredient, the range has been awarded the 'Natural Certified' (from the international ISO 16218 standard) and 'Vegan' labels. In short, at least 90% of ingredients used in the Maison Eole collections are natural and none of them come from animals.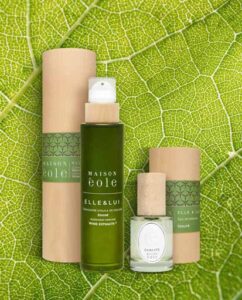 Beautifully presented – there is no plastic in sight, with all packaging made out of wood or glass and meant to be kept or reused, Maison Eole cosmetics comprise myriad day and regenerating night creams. The brand also features face masks, makeup removers, after shave and beard lotions, anti-wrinkle serums and, last month, a special month of love, a Saint Valentine's Day collection.
For more information:
Please see www.maisoneole.com for where to find the products in pharmacies or shops or visit the e-shop or the Domaine's own boutique at Grand-Route 58, 7040 Quévy-Le-Grand.