In our latest luxury lifestyle article we chat to MYBA board member Eleonora Pitasso.
How has women's involvement in yachting developed over the years?
Working in yachting as a professional derives from a traditional and conservative maritime world, which in the past years has become progressively more accessible to all individuals, while in the past was a predominantly male-dominated culture.
The maritime society has become more accessible to people, and, consequently, women initiating their own career paths have gravitated toward this field, and it seems like a natural evolution of the sector.
I started my career over 16 years ago, and I've been happily seeing more and more women entering the yachting world. Countries like Monaco, France, Italy, The Netherlands and the UK have spread a larger word to students and universities. Today, we see more access and the presence of specific training courses, (see the MYBA Superyacht Broker Seminars) dedicated lessons and a larger number of professional women levelling up to Manager/Broker and to other leading roles within their companies and particularly in Yacht Management, Technical Superintendency and Brokerage. I'm confident this number is due to increase further in the next decade.
MYBA itself has worked with academic establishments in the UK to draw attention to our industry at the graduate and post-graduate level (London School of Economics and Queen Mary University of London).

What do you do for MYBA?
At MYBA I'm an Individual Member and part of the Board under the Global Initiatives Committee. As mentioned above, yachting has been developing at a broader scale with new generations rising; MYBA is promoting several areas of operational and commercial activity and supporting individuals aiming to improve their skills and support the community with one voice. For example, MYBA is a member of the board of the Maritime Skills Alliance in London. With this Committee I investigate ways to further enhance the initiatives of the Association among members and potential members.
Why yachting and what was your inspiration?
Yachting is usually classified as a structural part of the Luxury Goods industry: it's a fascinating and niche market, a small world where usually professionals consider themselves part of a rather secluded community.
My inspiration to be increasingly part of yachting derives from the beauty that results in the final product: a superyacht! I'll never stop introducing the world of yachting without saying that a 30m yacht is constituted of 15,000 parts. An owner's dream shaped by skilful hands and countless hours of work and expertise, a floating piece of art that can take his/her owner wherever he/she wishes to go, the ultimate escape and the ultimate intimate shelter for his/her beloved ones. It's an idea that never leaves me.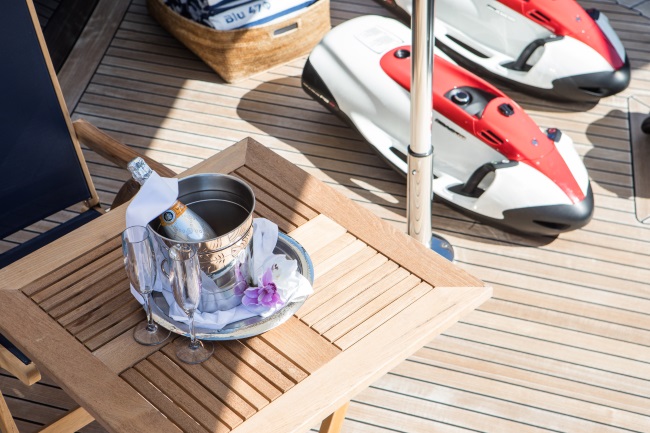 What are the three key tasks of MYBA as a whole?
Founded in 1984, MYBA is the pillar of today's charter and sales activity regulation. It endeavours to maintain the highest quality. Over the years, the Association has given life to a significantly important Charter Agreement and to an Electronic Memorandum of Agreement that still lead the current transactions of the industry. These documents are a pluriannual investment of many professionals discussing the best legal and commercial points to make sure Charterers or Sales Clients see their interests protected in line with the present times and regulations.
On a second note, MYBA manages its relationship with other industry associations to ensure support or harmonization of complementary initiatives regarding charter, sales and yacht operations, spanning from charter shows to sales open days as well as a presence at international maritime organizations which seek compliance information on maritime rules.
On a third note, MYBA is making sure that a code of ethics is followed and respected by its members and, more than ever, that a commitment to sustainability is promoted and followed in the Association.
www.myba-association.com