Our luxury motoring correspondent Bob Monard looks back at a centenary of an elite brand.
Expect a worldwide programme of exclusive events throughout 2019!It is sometimes forgotten, but the British brand Bentley was first constructed by another subject of her gracious Majesty: Rolls-Royce.Bentley is clearly delighted with its 100th anniversary, and the oldest and latest models of the EXP 2 racing car were present at Rétromobile at the Paris Expo Porte de Versailles.Highlighting Bentley's evolution over the past 100 years, the British brand's booth in Paris offered visitors a unique opportunity to explore the heritage and innovation of the luxury car manufacturer.
The new Continental GT Convertible joins its illustrious ancestor in Paris: it is the quintessential open-air grand tourer. Although separated by 100 years of automobile evolution, the two models share the fundamental characteristics of Bentley: both are genuine Grand Tourers; both offer performance levels that mark the sector; and both have an innovative technology from the very start.A legacy of the Cricklewood era, the EXP 2 is the oldest Bentley. It made its debut at the 1919 Olympia Motor Show. It is an iconic car in the history of this century-old brand.
Drawing on W.O.'s experience in pre-war competition, EXP 2 was also the first of the brand's cars to win a race powered by a 3.0-litre four-cylinder engine at a top speed of 80mph.Frank Clement, a development engineer and driver, won the Brooklands Junior Sprint Handicap on May 16, 1921 with EXP2, the first race win for Bentley. Clement won not only the first victory of the brand but also left very famous drivers in his wake.W.O. created a company whose goal was simple: to build "a good fast car that must be the best in its class". This guiding principle has always guided Bentley, which is the leader in automotive luxury today around the world.
Relaunched in 1998 by new owners VW, the Bentley brand remains even more faithful than ever to its precious 'British touch'. And the Belgian Dirk van Braeckel, Design Director of Bentley 20 years ago, who will certainly not contradict me.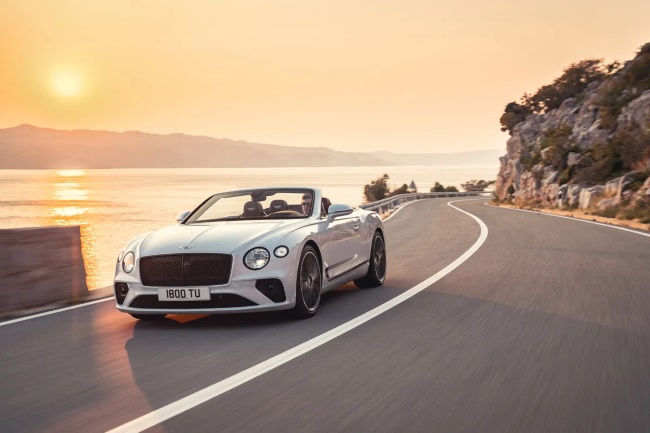 Bentley in competition
The manufacturer has won six victories at the 24 Hours of Le Mans: in 1924, 1927, 1928, 1929, 1930 and in 2003. In 2001, Bentley returned to endurance racing in the Sarthe with the EXP Speed 8 model equipped with a turbocharged Audi V8 block. Bentley ranked third and fourth in 2002 behind Audi, its sister car at VW. In 2003, Bentley stood on the two highest steps of the podium!
Bentley at Le Mans 2019!
The world's largest endurance race pays tribute to the Bentley centennial! The rue du Mans has been renamed 'Rue des Bentley Boys', the all-new Flying Spur world premiere will be at the parade rounds, classic models can be viewed on the Bentley Through The Decades screen and the new Bentley exhibition will remain open until September at the Museum of the 24 Hours of Le Mans. The Bentley centenary is clearly all the rage! A prestigious manufacturer, Bentley has always combined the nobility of mechanics, the luxurious refinement of the material and absolute comfort. Since 1998, the English handmade and the Germanic technological knowhow have earned Bentley a glittering reputation for one hundred years. And it's not over…
Bentley Brussels
www.brussels.bentleymotors.com
www.retromobile.com