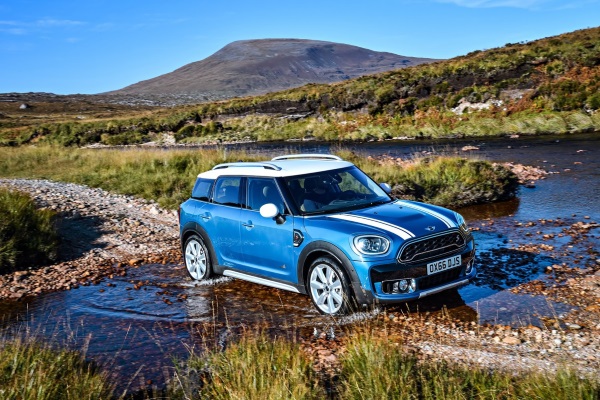 Our motoring correspondent Bob Monard takes a look at the latest Mini.
Finally unveiled at the recent Geneva Motor Show, the Mini Countryman kept us waiting – like all good things! And this second generation really has to step up to the plate because the competition is tough.
After more than six years of good and loyal service, the recreational Mini now has a length of 4.30 m, increased by 20 cm, a boot of 450 dm2 with hands-free opening and has the same chassis as the Mini three-door, five-door, Mini Clubman as well as the BMW X1 and the Series 2 Activ Tourer, from which it will eventually inherit the hybrid rechargeable battery (225xe): 1500cc of gasoline with 136hp for the front axle and electric block of 88hp at the back.
Available in 2 and 4-wheel drive, this 5-door Mini SUV will house 3 and 4-cylinder petrol engines (136 and 192hp) and diesel engines (150 and 190hp). More slender and with a wider grille, more marked wheel arches, more spacious rear seats that slide, increased boot volume with double floor, this little crossover does not skimp on its allowance. It boasts a head-up display, Active cruise control, collision warning with emergency brake, automatic parking assistance, panel recognition, automatic transmission with six or eight gears – it has everything that is trendy in contemporary motoring.
Best-selling compact SUV, the Countryman shines through with its clever balance between clutter and habitability. And with an incomparable style that is also customizable!
The arrival of this new Countryman, very close to the Clubman dimensions-wise, sounds the knell in the motoring world for the Mini Paceman 3-door, which now joins the Mini Coupé and Mini Roadster among the collectibles. Mini's city slicker, this Countryman will have – like the one that preceded it since 2010 – everything needed to seduce motorists who are very concerned about the chic look of their car. Anyway, the latest Mini costs between €27,000-€38,000  and will be ideally prepared to take on the new Audi Q2 and the Citroën DS3.