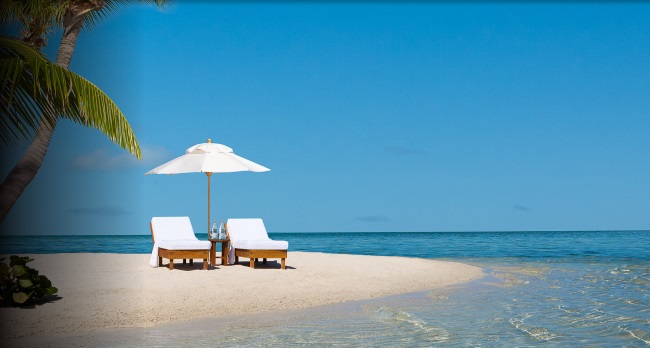 This month we look at the private islands where the rich and famous spend their vacation time.
Little Palm Island, Florida Keys, USA
This Florida Keys resort has been the escape of choice for presidents, celebrities and savvy travellers alike. The magic of this island is its exclusive location where a captivating view exists in every direction. Crushed seashell paths wind through this 5½ acre paradise connecting extra spacious 30 oceanfront suites. There are no telephones or televisions, or guests under the age of 16 at this private island resort. The only distractions are the outdoors and each other.
The suites, nestled in bungalows, are so peaceful it's like living alone in the lap of luxury. Island Escape Suite, Island Elegance Suite, Island Romance Suite and Island Grand Suite guest quarters are housed in thatched roof bungalows, with custom-made king-sized beds with romantic butterfly netting.
Experts Forbes Traveler said: "Set on a private five-acre islet and surrounded by sherbet-green seas, Little Palm intelligently integrates eye-popping ecology with stylish suites, inventive cuisine and a priceless shield of privacy."
Experience the restaurant's candlelit ambiance indoor or facing the beach, where some of the world's finest cuisine can be experienced in the resort's Dining Room. Led by Executive Chef and his culinary team, it has recently been recognized as the Best Hotel Dining in Florida and Number Three in the US by Zagat, who said that there is "extraordinary to perfection" in every category.
www.littlepalmisland.com
Photos: Nobel House Resorts
Le Saint Géran, Mauritius
Delve into the famed artistic heritage of Mauritius, celebrating the island's diverse languages, religions, ethnicities and cultural traditions.
Michele Giraudo, Hotel Manager, PADI Divemaster and accredited SSI Shark Ecology specialist, will introduce you to these captivating Indian Ocean neighbours. Michele has been diving with sharks for the last ten years, and knows just where to go for the optimum experience on board the luxury Legend 33 speedboat. After the excitement of the morning, your afternoon calls for some indulgent restoration, with a blissful experience at the One&Only Spa. Feeling brand new, a sunset celebration awaits, enjoying beautiful acoustic music around our crackling One Bonfire and enjoying the freshly grilled spoils of your morning at sea.
An exclusive island home, ready to wow. This expansive private estate offers stunning ocean views beyond the al fresco entertaining space with sparkling infinity pool. Two elegant bedrooms have dedicated marble-lined bathrooms with indulgent showers, stand-alone baths, and generous mirrored dressing space. A party-ready kitchen complements stylish interior living and dining space, while outside, the sprawling ocean-view terrace is home to an al fresco kitchen and grill, additional dining space, and sumptuous loungers alongside the private pool.
www.oneandonlyresorts.com

Palmilla Los Cabos
Another One&Only resort, Palmilla is situated at the edge of the Baja Peninsula, where golden desert sands meet breathtaking turquoise waters. It affords extraordinary views of the Los Cabos landscape and beachfront access to one of the few swimmable beaches in the entire region. is situated on land that enjoys a rich and storied history dating back millions of years, when volcanic movement and earthquakes split a 1,100-mile-long finger of land off mainland Mexico. Los Cabos (Spanish for The Capes) survived merchants, explorers and pirates to later welcome celebrated authors and biologists intrigued by the rich marine life in the Sea of Cortez.
The resort itself was built in 1956 as a 15-room luxury hideaway by Don Abelardo Rodriguez, son of the President of Mexico. Accessible only by yacht or private plane, its earliest guests included Hollywood celebrities such as John Wayne, Lucille Ball and the former United States President Dwight D. Eisenhower – they were all attracted by the privacy of the resort as well as the region's deep-sea fishing.
Following the construction of the Transpeninsular Highway in 1970, the resort became increasingly popular and grew to 50 rooms by 1984. In 1991, the Palmilla Golf Club opened, and in 1996, the property was again expanded to 115 rooms. The glamorous flavour and ambience of the original resort were carefully preserved in One&Only Palmilla, which opened in February 2004 following a $90 million refurbishment.
There you can dine on the finest cuisine in Los Cabos as Michelin-starred chef Jean-Georges Vongerichten debuts his newest creations at SEARED, a refined steak and seafood restaurant, in addition to the sushi and ceviches served at his already established Suviche venue. French-trained culinary powerhouse Larbi Dahrouch presents his signature seasonally-driven Mexican farm-to-table cuisine at Agua by Larbi.
www.oneandonlyresorts.com