Scandinavian design expert Vipp transforms a farmhouse in Lolland from 1775 into its fourth hotel destination.
Vipp Farmhouse is nestled in a forest on the 1400 acres estate of Søllestedgaard situated on the Danish island of Lolland. The old frames of a traditional farmhouse have found new purpose as Vipp's 4th hotel destination and add plenty of farm-life feel to its portfolio of one-room-wonders.
3 bedrooms, a bathroom, a combined kitchen and living space make up the 88 m2 residence titled Vipp Farmhouse. Commissioned by Vipp and the estate owner Ulrik Th. Jørgensen, interior designer Julie Cloos Mølsgaard has realised a modern farmhouse that combines historical charm with modern convenience displaying both functional finesse and curious art finds.
Whitewashed facades topped with a thatched roof equals a traditional Danish farmhouse. Checking into this former gardener residence is like stepping back in time. While the architectural shell is a reminiscence from when it was built in 1775, the newly furbished interior brings us into the modern area of Scandinavian minimalism.
Jette Egelund, 2nd generation Vipp owner, says: "During lock-down we have rediscovered nature and the charm of the Danish countryside, and now we share it with you. Vipp's fourth hotel destination offers a convenient escape to nature. A taste of farm life, where the cow has already been milked."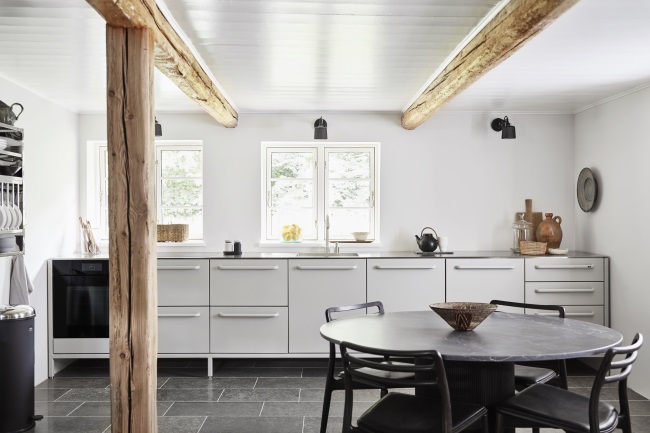 While nature is omni-present at Vipp Farmhouse, so is history. The neighbouring estate Søllestedgaard houses a manor dating back to 1800 and boasts the largest private greenery in Denmark under the name 'Den Grønne Verden'. Freshly-picked produce is consumed by guests at Danish Michelin restaurants and at the estate restaurant Spiseriet.
"Our old horse stable is now transformed into a restaurant and shop where Vipp Farmhouse guests can buy or taste our variety of 250 greens cultivated on the fields next door," says Ulrik Th. Jørgensen.
And if you prefer to cook yourself, seasonal picks are waiting to be cooked in the Vipp kitchen at the farmhouse. Welcome to this historical canvas fully furnished by Vipp.
About Lolland
Lolland is the fourth largest island of Denmark situated just south of Zealand, a 2-hour drive from Copenhagen. With a rich soil and a good climate encouraging many local food start-ups, Lolland has long been known as the food chamber of Denmark. Gourmet tourists will find a slice of heaven on the island. A magnet for Copenhageners is the newly opened restaurant 'Pomle Nakke' – an ideal pitstop for lunch on the way to the farmhouse.
Credits
Project by Vipp. Photos: Anders Schønnemann. Interior design: Julie Cloos Mølsgaard. Art pieces borrowed from Galleri Christoffer Egelund. Beds: Dux.
Vipp Farmhouse
Vipp Farmhouse Søllestedgårdvej 8 DK – 4920 Søllested
Opening July 2021 – Book at vipp.com/hotel

Read more Scandinavian design articles…