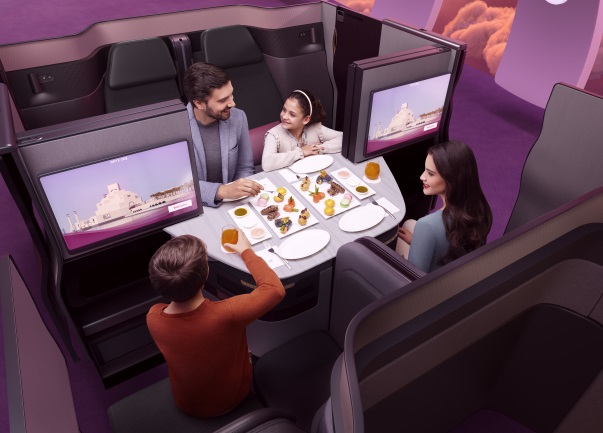 In our latest World travel articles we look at an exceptional airline's business services.
Once again elected best airline in 2021, Qatar Airways stands out for its perfect management of the health crisis but also for its impeccable 5-star service and the comfort of the Economy and Business Class cabin. The fleet is also getting all new Airbus 350s, which are greener and reduce the company's carbon footprint.
Qatar Airways serves 140 destinations around the world, including Brussels, and offers unrivaled connectivity to passengers. It is also an important destination for the company because there are a large number of European institutions in the city. And we are all the more delighted that in recent months the Brussels – Dubai line (via Doha, the best airport in the world) has reopened. Travel time? 5 hours flight to Doha and 1 hour flight to Dubai.
The Business experience on board
For many people, vacations begin the moment they get on the plane. It is truly a moment of relaxation where the mind escapes and the body relaxes completely. The flight is therefore a unique experience. It's no wonder that Qatar has had a very loyal following for many years. The experience begins at the Qatar Airways Business Desk at Brussels Airport, a very pleasant start with this advantage and the 40kg of luggage authorized in Business Class, followed by 'first' boarding. Once you have settled in, hostesses and/or Stewards personally present the menu which has a wide choice of culinary delights. They will take your order as well as the time at which you wish to have dinner or lunch (depending on the schedule). The Business Class' à la carte menu also offers a range of fully vegan dishes
At the same time and before taking off, a refreshing drink or a small welcome glass will kick off the start of the trip. Passengers can stay connected by using the wifi connectivity on board which is free of charge for one hour. In addition, there is also the award-winning Oryx One in-flight entertainment system that offers up to 4,000 entertainment options, including the latest blockbuster movies, TV box sets, music, games and much more.
The Business Class is very comfortable – the multiple-function seats adapt to your desires (sitting position, legs stretched out or fully lying down). The Qatar Airways blanket, slippers and comfort kit add a touch of luxury. Premium passengers also enjoy a new and exclusive range of diptyque toiletries with essences and fragrances that will take them on a sensory journey, making it a real pleasure to travel by plane!
A brand new product in Business has emerged at Qatar: the Qsuite, a groundbreaking Business Class experience that was awarded 'World's Best Business Class', and 'Best Business Class Seat'. It is ideal for couples because the middle seats, which are side by side, can be transformed into a double bed, completely isolated by large sliding doors on either side.
Qatar meets the demands of passengers whether they travel in Economy or Business Class. Flying with Qatar allows you to feel many things: freedom, comfort and maximum safety. Qatar Airways became the first global airline in the world to achieve the prestigious 5-Star Covid-19 Airline Safety Rating by Skytrax, an assurance to passengers that the safety standards are the highest possible.
www.qatarairways.com/en-be