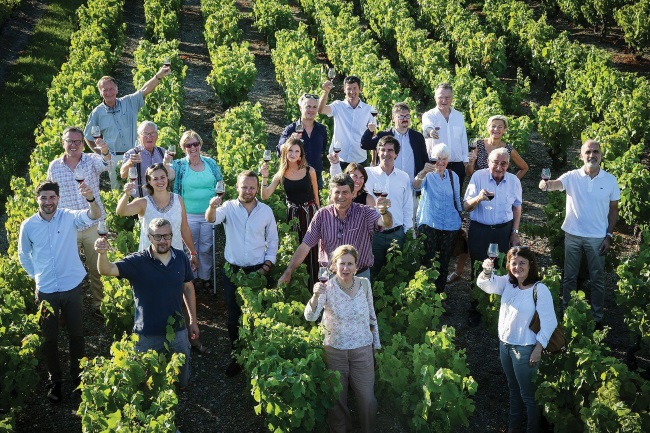 French Wine – This month we look at a club of exceptional winemakers, Vignobles & Signatures.
Vignobles & Signatures, put simply, is one club, men and women from French vineyards, sixteen families producing excellent wines. Initiated by Jean-Francois Janoueix at Vinexpo Bordeaux, the place that encourages friendly meetings and discussions, Vignobles & Signatures evolved naturally from these encounters. The club was first established with eight leading winegrowers from eight major appellation areas.
Today, the club has become a genuine economic force in the French wine industry, boasting 1,550 hectares of vines, 11.5 million bottles, 375 employees and a turnover of €84 million, with members belonging to the leading family producers from France's chief appellation areas.
A wine history going back several generations, a tradition led by family business, an extra asset to the wine quality. Vignobles & Signatures is the undeniable success of an association based on the solidarity between its vintners and the love of a job well done. An ethic naturally adopted by new generations, already integrated in some companies. Interaction remains an important part of Vignobles & Signatures.
Vintners from father to son (and daughter), with a passion for taste and high standards of quality, the estates resolutely strive to provide and guarantee top quality products. The carefully matured wines display the characteristics of each vintage with refinement. Each offering reflects rigorous winemaking practices, as a result, the personality of each terroir can fully express itself. When it comes to the different terroirs, the ongoing quest for permanent added value is evident, in view of creating authentic wines.
Some endorsements
"We can share our preoccupations and views. This exchange allows for a greater and quicker awareness of current problems and solutions." Philippe Blanck
"Every day we grow a little bit more together." Jean-Paul Durup "The club's joint actions have allowed us to develop the Drappier brand in the best traditional retailing networks." Michel Drappier
www.vsclub.com