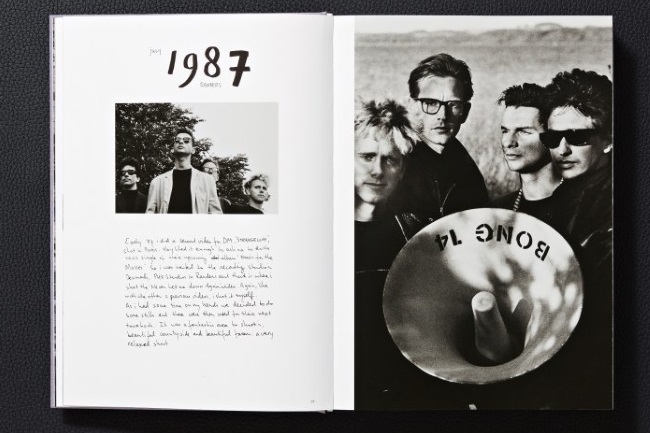 This month's Celebrity pop books features TASCHEN's book illustrating the band that lit up the 1980s.
Since the 1980s, Dutch master Anton Corbijn's timeless and brooding aesthetic has cemented Depeche Mode's reputation as effortlessly cool. With over 500 images from Corbijn's personal archives, some never seen before, as well as Corbijn's handwritten captions, and an in-depth interview with the artist, this is the eagerly anticipated, wallet friendly successor to our 2020 limited edition. Created with the full collaboration of the band, DM by AC visually amplifies Anton Corbijn's stunning impact on the world's biggest cult band and celebrates one of the most creative and enduring collaborations in rock history.
"He thought they were pop lightweights – then turned them into moody megastars. [Corbijn] recalls his adventures with the band, from desert trips to drug-induced near-death experiences." The Guardian
"Anton was able to give the DM sound, that we were beginning to create, a visual identity." Dave Gahan
"We were big fans of Anton's art before we worked with him and after the amazing results we saw from the first photo sessions and videos, we had no reason to doubt his ideas." Martin Gore
"We finally nabbed him in '86 and that led to the video for 'A Question of Time' in LA. The rest is history." Andrew Fletcher
Hardcover, 512 pages: €100
Multilingual Edition: English, French, German
TASCHEN in Brussels
In Grand Sablon you will find TASCHEN Brussels. In 2020, the publishing house updated its long presence in the neighborhood by moving its much-loved bookstore to a fresh location in this vivid and lively piazza filled with restaurants, bars and antique stores. The distinctive feature of the vibrant new space is its bright, joyful wall panels by Cuban‑American artist Jorge Pardo. Enveloped in color, the store also incorporates fixtures by Philippe Starck as well as furnishings by Gio Ponti. Showcasing the very best from the world of TASCHEN – including limited edition prints, iconic Collector's Editions, and tomes covering art and architecture, music and film, comics and fashion, and everything in between – we are excited to have you join us in this historic piazza filled with restaurants, bars and antique stores.
Place du Grand Sablon/Grote Zavel 35
1000 Brussels
Read more Celebrity pop books articles…