And with Perry, he finds himself questioning his choices, his resolve, how did I get here? Then suddenly he's playing with Russian Mafia; the secret service, it's a dangerous game and he's blind sighted. Not necessarily in a bad way. It's a break from his day to day, from his crumbling relationship that's he's after. Dima is living this life, he's living large and Perry's sort of shrivelled up, he's attracted to what Dima offers him.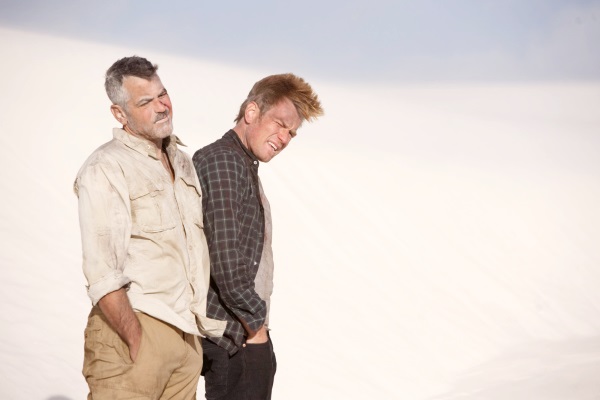 And Suzanna is a friend of mine, I had the pleasure of doing a couple of days on Nanny McPhee 2 for a couple of days which was fun. I like her and she's a really great director.
Were you a Le Carre fan?
No, this would be the first Le Carre I've read, I'm not a big thriller reader. And I think he might have changed me [laughs]. I love stories about human development and relationships and dynamics and all that and this was very much concentrated on that, as opposed to just the paving of the plot which is what most thrillers focus on.
The cast is a veritable who's who of fine talent. Who were you most excited to work with?
Well, Stellan I already knew from Angels and Demons so it was great to work so closely with him, because we only had one scene in that. He comes over a quite foreboding character, but he's really one of the funniest people you could meet. Doing a scene was really difficult because he sort of created this catchphrase out of nowhere for Dima, 'What the fuck?' [in Russian accent] in wasn't in the script but it ended up in every scene. And it was totally him, totally Stellan.
And Naomie is exactly who I wanted for the role of my wife when I read the script. Sounds quite strange taken out of context, 'I wanted this woman to be my wife.' Perry and Gail had this really interesting relationship, there's damage in it, there's a complexity, there's a human heart there. Often with these thrillers, like I was saying, there's not usually a great deal of exploration in relationships it's often about the espionage plot. But there's a real substance, a real story to play with, you understand where they are and how they get themselves into this situation. And to play the relationship at a stage where it's least good and taking it forward to where it gets better, that's dangerous in a piece of film.
It can be a turn off to audiences who don't necessarily want to see these angry scenes. I needed someone like Naomie to flesh that out.
Speaking about Naomie, we chatted about the effect of Danny Boyle of both of your careers and Trainspotting 2 came up. What can you tell me, what can we expect?
I'm very excited, I can feel it in my gut, that excitement.
Yeah, we start in the summer and to be working again with Danny, working with Bobby Carlyle, Jonny [Lee Miller], Ewan Bremner, and to become Renton again. To find out where he's at and where he'll go to. I'm excited.